Donor Match Will Quadruple #GivingTuesday Gifts
The season of giving is just around the corner, and UC Merced is getting in the spirit. On Dec. 1, the campus will participate in #GivingTuesday, a global day dedicated to giving back. All around the world, people will come together for the unified purpose of celebrating generosity and giving.
Development and Alumni Relations is spearheading the second annual campaign to raise money for scholarships, using the hashtag #GiveTueUCM. Last year's effort raised more than $40,000 in gift and match funds from 167 donors in the designated 24-hour period. Thanks to the generosity of a 3-to-1 match from Wells Fargo and Foster Poultry Farms, each gift made to one of the qualifying featured scholarships was quadrupled.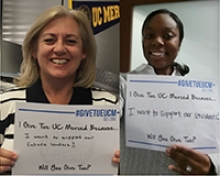 This year's goal is to secure $100,000 in new scholarship support, said Alumni Relations Director Chris Abrescy, and organizers are making it easier than ever to donate.
"We will feature a new interactive platform this year that allows donors to give on the go, with a mobile-ready site that can be linked to a Facebook account," he said. "Donors will be able to track real-time progress to goals throughout the day and easily see how quickly $25 of support transforms into $100 of impact."
In addition, there will be a 24-hour hub of activity inside the Lantern, where faculty, staff and students can donate in person, take photo booth "unselfies" and get buttons showing their support of the campaign. Gifts can be pledged in installments, allowing donors to take advantage of the one-day-only match opportunity while spreading out their donations over time. Last year, the largest single donation came from a young alumnus who pledged $2,000 in installments.
This year, the hope is to see more participation from faculty and staff. Donors will have the opportunity to target one of the following scholarship funds when giving online:
UC Merced Alumni Association Scholarship Endowment Fund
UC Merced Student Alumni Association Scholarship Fund
School of Engineering Scholarship Fund
School of Natural Sciences Scholarship Fund
School of Social Sciences, Humanities and Arts Scholarship Fund
Bobcat Athletics Scholarship Fund
UC Merced Staff Assembly Scholarship Endowment Fund for Employees' Children
Dream Act Scholarship Fund
Guardian Scholars Scholarship Fund
San Joaquin Valley UC Alumni Network Scholarship Endowment Fund
University Friends Circle Scholarship Endowment Fund
Campuswide Undergraduate Scholarship Fund
In order to qualify for the 3-to-1 match, all donations must be made between midnight and 11:59 p.m. Dec. 1.