Downtown Business Incubator Bridges Campus, Community
The link between UC Merced and downtown Merced will grow stronger this spring with the opening of a new business incubator.
The partnership between the city and the campus's Office of Research and Economic Development culminates this summer when UC Merced begins occupying part of the Parcade building at 18th and M streets.
"We're hoping to see more companies birthed in Merced, and hope the center will also be a way to grow existing businesses and retain talent here in the region," Merced Economic Development Director Frank Quintero said.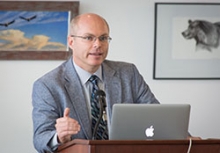 The UC Merced Small Business Development Center Regional Network, now in Fresno, moves in first to continue its work with all small businesses in the area when they need resources, education and training and other services. The rest of the incubator space will be a place for startup teams and entrepreneurs to meet and work on projects.
UC Merced Associate Vice Chancellor for Research and Economic Development Peter Schuerman said the partners have lots of plans for the incubator space, including weekly workshops with various experts, brown-bag lunch meetings, room for evening and night work, and more.
"Clients will explore new business ideas and put together teams to take the best of those ideas forward as startup companies," Schuerman said.
He envisions participation by UC Merced faculty members and students along with members of the business community, who all bring different strengths to forming new ventures.
One of the first startup businesses in the space will be ThermoVote, a smart-building system that heats and cools indoor spaces according to user preferences and building occupancy, developed by School of Engineering professors Alberto Cerpa and Paul Maglio.
"We're developing a suite of products that include the ThermoVote application," Cerpa said. "We're testing now to refine the smart-building technology, publish papers and commercialize."
UC Merced students will be encouraged to work on commercializing their own developments or take technologies from UC Merced research programs out for test drives. Some students and alumni have already formed startups or businesses, but having this space and these resources might have made those ventures easier.
Launching the incubator is just one goal of the expanded UC Merced Office of Research, which broadened its mission by closing the Office of Technology Transfer and adding the new Office of Business Development.
The new office helps researchers with goals of economic development and job creation so they can maintain their focus and excellence in research and education, Vice Chancellor for Research and Economic Development Sam Traina said.
Goals for the new office include industry research and development partnerships, the formation of new companies, and development of products and services that create new jobs and new benefits for society.
Quintero said just having more students, faculty and staff members downtown helps downtown businesses and strengthens the town-gown relationship, as well as encouraging collaborations involving business, manufacturing, the city and UC Merced.
He hopes businesses in the area will take advantage of the opportunity to connect with UC Merced researchers.
"The potential in university research to create economic growth, new jobs and benefits for society is tremendous," Schuerman said. "The potential is unlocked when the community — on campus and off — works together. The opening of the business incubator is an invitation for all of us to connect and think big."