Drill Helps with Preparedness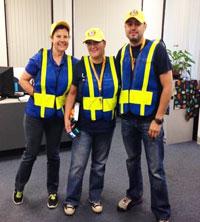 During last month's The Great California ShakeOut statewide earthquake drill, three building safety coordinators at the Castle Commerce Center seized the opportunity to hold a facilitywide evacuation drill.
To conduct the exercise, Diego Molina, Denise Silva and Mireille Smith used the equipment and training they received at their Building Safety Coordinator orientation.
The day before the drill, an email alerted anyone working at Castle about the planned exercise. People were told they would hear three short whistle blasts coming from the lobby at 10:17 a.m. Oct. 17. They were instructed to get under their desks and cover their heads and necks or stand in doorways braced with both arms and legs extended the width of the doorway. After two minutes, they would hear one long whistle blast and should grab their belongings and evacuate the building to their designated locations in the parking lot.
Smith and others took roll call while Molina and Silva cleared the building, trailers and labs and placed BSC stickers on evacuated doors.
"We felt the drill was necessary because we have never had a drill at Castle in the past," said Silva, a purchasing and travel specialist in the School of Natural Sciences. "It's important that the faculty, staff and students all know what to do in case of emergency. We have lab space out here and it's imperative that safety measures are tested regularly to avoid any tragedies."
Silva said the main purpose of the drill was to practice getting everyone out safely, so she feels it was a success. She said future drills are definitely needed and in the works.
The drill was well received by faculty members, staff members and students, who fully cooperated.
One thing that came out of the exercise was the lack of volunteers to assist during an emergency. Silva urged others — whether they work at Castle, campus or other buildings — to become building safety coordinators.
"We will need more volunteers. In a real emergency, two people will not be able to evacuate an entire building," Silva said.
As an auxiliary building, during drills or emergencies Castle users don't receive the audible messages from blue light locations throughout campus; however, they do receive UCM ALERT messages via text or email to electronic devices.
The BSC program is part of the Department of Public Safety's Emergency Preparedness and Management Unit. If you are interested in becoming a building safety coordinator, contact Tamela Adkins at 209-228-4216.