Early Childhood Education Center Expands Hours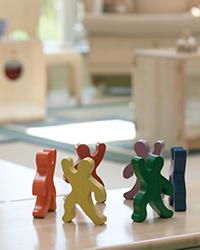 UC Merced's Early Childhood Education Center (ECEC) has good news for parents: The facility has extended its operating hours.
The center's new hours are 7 a.m. to 6 p.m. weekdays, said ECEC Director Danielle Waite. The center now opens 30 minutes earlier and closes 30 minutes later. The move to extend operating hours provides more convenience for parents who teach, work and learn at UC Merced.
"This is a big step for the ECEC and great news particularly for those parents traveling from our off-campus facilities at The Promenade, Mondo and Castle," Waite said.
Another plus, said Waite: ECEC tuition will not increase, so families can get up to an additional hour of quality childcare at the same rates.
The ECEC is accredited by the Association for Early Learning Leaders. The facility is enrolling infants (6 weeks to 18 months), toddlers (18 to 30 months) and preschoolers (21/2 to 5 years old). Reservations for spring 2014 enrollment are also being accepted. The facility is open to parents affiliated with UC Merced as well as community members.
For additional more information about the ECEC, please visit the center's website or call 228-5437 (CAT-KIDS).