ECEC Trike-A-Thon Nets Money for St. Jude's Hospital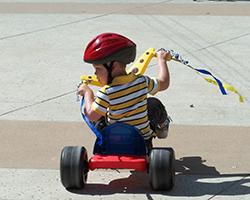 Children at UC Merced's Early Childhood Education Center (ECEC) enjoyed some free-wheeling fun, learned about bike safety and helped raise more than $2,000 for St. Jude's Research Hospital during the center's Trike-a-Thon fundraiser.
During the course of a week, the preschoolers and toddlers learned about riding safety and at the end of the week, the Bobcat Kittens took to their tricycles, bikes and Big Wheels to demonstrate the safety tips they learned. Infants pushed their push-toys or participated in a Stroller-A-Thon. Parents had their friends and family members donate to St. Jude's in their child's name.
St. Jude's Research Hospital specializes in treating young children with cancer and other catastrophic diseases. ECEC Director Danielle Waite said the center collaborated with UC Merced's Housing and Residential Life department and Delta Delta Delta sorority to organize the event. Meanwhile, donations on behalf of the ECEC are still being accepted online.