EH&S Director: Safety is Everybody's Business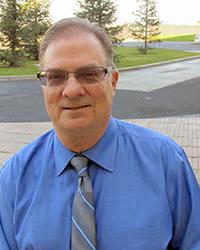 David Ott has a weighty responsibility at UC Merced: Safeguarding the health and well-being of the campus community, its facilities and programs as director of Environmental Health and Safety (EH&S).
Ott joined UC Merced last September and before his appointment, spent nearly 24 years at UCLA as a division manager for that campus's EH&S department. Although most of his professional career has been in the field of environmental health and hazardous materials safety, Ott earned his undergraduate degree in zoology from California State University, Los Angeles, and a master's degree in environmental and occupational health from CSU Northridge.
After graduation, the Los Angeles native worked in the private sector for six years, first as a research technician then as a senior research biologist, before landing a job in instructional support at CSU Fullerton and Northridge. There, he helped set up the campuses' chemistry labs. Seven years later, when a programs manager position opened in UCLA's Office of Environmental Health and Safety, he applied for and got the hazardous materials manager position and went on to manage the environmental health, and industrial hygiene programs for EH&S.
"My background in research and having worked previously in labs allowed me to make the transition and help the campus with its safety programs," he said.
Now, Ott is using his vast experience to help UC Merced take its EH&S programs to the next level of development as the campus grows. He recently sat down with Panorama to discuss the department, its role and future plans.
Although the campus community might mainly associate your department with lab safety, EH&S does so much more. Can you provide a quick overview what your department handles?
We're a small department but have a lot of functions including: the campus fire marshal; ensuring lab, facilities and shop safety; handling hazardous materials and waste; issuing food permits; overseeing the ergonomic program; field research safety; and environmental compliance. We have to make sure the campus is complying with all regulations -- local, state and federal. Aside from making sure we meet all regulations, we want to ensure we're doing everything to the highest standard to maintain a safe and healthy work environment.
What prompted your interest in UC Merced?
I was interested in the campus when it first opened in 2005. I saw it as a challenge to help establish a EH&S department for a new university, and I thought I could make a significant contribution. But the timing wasn't right. Recently, (when the director position opened at UC Merced), I was at a point in my career where I wanted to take on a new challenge and thought that the smaller campus environment would be rewarding. This time the timing was right, and working here has been a unique opportunity.
Have you identified your top priorities or goals for the department?
Yes. One is to review the shop and general facilities programs and evaluate how these programs and all EH&S programs can be further developed. We are also looking to update our website and make it more user friendly. I'd also like to eventually create a newsletter for the whole campus.
Have there been any challenges in moving from a large campus to small one?
The main challenge is that we have to cover all the same areas involving health and safety that a bigger campus does except we do it with fewer staff.
Bigger campuses such as UCLA have more than 50 people in EH&S. Here, we have five people, including myself.
What have you enjoyed most about your move from Los Angeles to Merced?
I lived in L.A. all of my life, so this is the farthest I've moved. I don't miss the commute to work. Here, the commute is a 10-minute drive on country roads where you get to see cows grazing in fields. I tell that to the people in my old vanpool who have to fight the 405 freeway every day. I am also enjoying the small campus atmosphere.
Have a question about the health and safety of your work environment or about environmental, health and safety in general? Call 228-4234 or contact EH&S.