Engineering Capstone Project Produces Sweet Results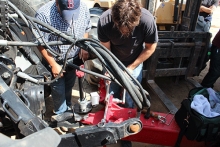 A group of students in the most recent School of Engineering capstone design course at UC Merced devised a sweet solution to a local farm's harvesting problem — one that is reaping long-term benefits for the farm and the students.
D&S Farms, a multi-generation family farming operation that grows and packs sweet potatoes in Atwater, has harvesting machines that pull trailers to haul the freshly picked tubers. But its steering is hard to control even when manually guided, and sweet potatoes — and profits — can be crushed as the trailers wander behind their harvesters.
Frustrated with the ongoing inefficiency, D&S manager Brian Carter approached Professor Ashlie Martini last spring to see if her capstone students could provide an answer.
Her six-member team, comprising five mechanical engineering students and a computer science and engineering student, traveled to the Atwater farm to get a better look at the challenge.
"I never thought it was a software project," team member Robbie Reekes said. "I'm looking at this harvester, and there's no code."
The solution, however, was both mechanical and computational. The team developed Sweet Steering, a sensor-driven mechanism that fits over the trailer hitch and monitors the angles in the hitch's rotation, then tells the hydraulics how to move as the harvester pulls the trailer down the dirt rows in the potato fields.
The mechanism measures the change in angle to within 1 degree and guides the trailer far more precisely than a human can, Carter said. The team figures the devices will save D&S between $45,000 and $60,000 a year in potato waste and extra labor once all the devices are installed.
In the spring, Sweet Steering won UC Merced's Innovate to Grow competition, providing the team with $5,000 and free assistance from a patent attorney to help guide them forward. They developed a business plan that won them the grand prize at an entrepreneurial workshop at UC Davis this summer, and four of the original team members are now working with D&S to outfit all 12 of the farm's harvesters with the mechanism.
"We tried several different ideas, but finally settled on this one, and built and tested it in a semester," said team member Sean Lantz, who graduated in May and is now pursuing a master's degree in mechanical engineering. He and Reekes, who graduated and now works for Apple, are assembling seven more Sweet Steering devices to prepare for next fall's potato harvest. Carter said the final four tractors will be outfitted next winter.
Martini credited part of the team's success to Carter and D&S co-owner David Souza for working so closely with the students.
"It makes a big, big difference to have them actively involved in the project," she said. "The students really step up when they see that someone from the 'real world' is expecting them to be accountable and work on the project as professional engineers.
"They designed something that works well and that people can really use."
Carter said he and others at D&S are impressed with the students and hope to partner with the capstone course again to solve other challenges they face on the farm.
"This just worked out so well," Carter said. "The first model they tested worked with absolutely no glitches. That was amazing."