Engineering a Garden Takes a Campus Community
As everyone knows, space is limited on the UC Merced campus.
But with a little money and a lot of persistence, Engineers for a Sustainable World has found a way to carve out a little room for a community garden.
The idea has been a dream of the Merritt Writing Program lecturer De Ette Silbaugh for years, and she approached Engineers for a Sustainable World to help, said ESW President Peter Ferrell. But the garden's location has only recently been determined.
The garden's 400 square feet of planting space will be installed by the end of the spring semester near Little Lake and the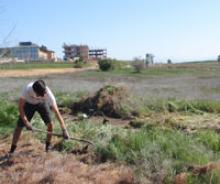 nearby fence that borders the campus.
The campus chapter of ESW and other volunteers cleared the land and will build 16 planting beds off campus and take them to the garden plot, where they will be set up to hold flowers, fruits and vegetables.  
"Different groups or individuals can work on the beds and grow what they want," Ferrell said. "Our group is going to grow primarily vegetables and flowers, and we will donate any produce we can to local food banks."
Ferrell is working on plans with Merced Gardens and Nursery to help teach students how to garden, and once the garden is established, he hopes students from around the community can come out and learn about gardening there too.
But for now, the garden will only be open to the UC Merced campus community.
Plans call for eight beds that are 4 feet by 8 feet, four square beds 4 feet by 4 feet and several smaller planters and trellises. The group already has the lumber for the beds, and Ferrell said ESW members and volunteers are working diligently on the weekends to get them built.
The first planter installation should cost about $1,000, with money coming from the Associated Students of UC Merced and the UC Merced Sustainability Council.
Ferrell said down the road, ESW plans to build a pergola and sitting area, install a large water tank with solar-powered irrigation controller, and expand to work with different agricultural techniques such as a greenhouse, hydroponics and rainwater catchment.
Although Ferrell is graduating this semester as a mechanical engineer, he would still like to be involved with the garden as an alumnus. He hopes the project will take off and attract students of all kinds who like to dig in the dirt and make things grow.
"We'd love to partner with all kinds of clubs and organizations for the garden – anyone who wants to be involved," Ferrell said. "We hope the garden's location will help it become a lasting feature of the UC Merced landscape."