Environment Takes Center Stage With Shakespeare in Yosemite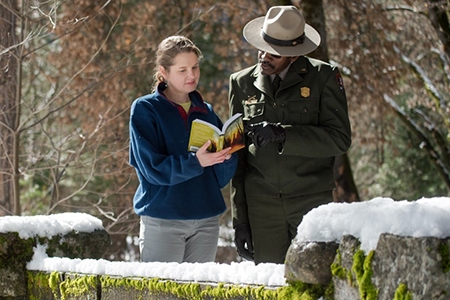 Local and student actors will perform excerpts from classic works of William Shakespeare, as well as writings by naturalist John Muir, against the dramatic backdrop of Yosemite National Park next month as UC Merced presents " Shakespeare in Yosemite."
The free performances will take place April 22 and 23 in Yosemite, coinciding with Earth Day on April 22 and Shakespeare's Birthday on April 23. Admission to Yosemite National Park will be free on the weekend of the event, in honor of National Park Week. Specific locations for the performances, as well as information about bus trips for faculty, staff and their families, will be announced in the coming weeks.
"Shakespeare in Yosemite" brings to life the imaginative worlds of two of the best nature writers in the English language, Shakespeare and Muir, using theatre and music to think about the natural world, and to convey the importance of art and storytelling in the battle to save the environment.
The project is co-directed and produced by Shakespeare scholars Katherine Steele Brokaw of UC Merced and Paul Prescott of the University of Warwick (U.K.). The show features longtime John Muir portrayer and scholar Lee Stetson, National Park Service Ranger Shelton Johnson, and actors from UC Merced, Merced College, University of the Pacific, the University of Warwick, Merced Shakespearefest and other Central Valley theatre communities.
"'Shakespeare in Yosemite' reflects the ingenuity of UC Merced's artistic community and the National Park Service," UC Merced Chancellor Dorothy Leland said. "Our partnership with Yosemite National Park is unparalleled — we conduct research dedicated to natural resource management and environmental education, we have an impressive student Yosemite Leadership Program, and now we are able to showcase the incomparable beauty of Yosemite National Park through our arts program."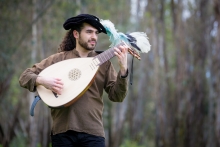 The program, which is appropriate for all ages, provides free public education about Shakespeare and Muir while highlighting themes of ecology and sustainability. Printed scripts will be available for the deaf and hard of hearing.
"Shakespeare himself never got to see Yosemite, but pairing his scenes and speeches about nature with the writing of John Muir has shown how well his words address the majesty of that place," Brokaw said. "Bringing the great American tradition of Shakespeare in the Park to Yosemite is the perfect way to celebrate both the vitality of the arts and the beauty of our National Parks."
"Shakespeare in Yosemite" is supported by the National Parks Institute at UC Merced, the UC Merced Office of the Chancellor, the UC Merced Center for the Humanities, the University of Warwick, and Misfit Press.
The free, one-hour performances will take place at 2 and 5:30 p.m. on both April 22 and 23. For more information, please visit: ucmerced.edu/shakespeare.