Event Planner Helps Make UC Merced Shine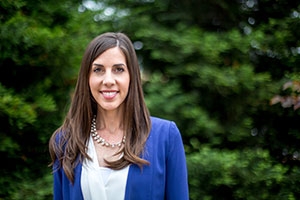 When this weekend's commencement ceremonies are concluded, Shannon Rogina will breathe a great sigh of relief. That sigh will acknowledge the campus successfully celebrated the achievements of another class of outstanding UC Merced graduates.
With about 900 students participating and 8,500 guests, that's no easy task.
Rogina, a special events manager for Development and Alumni Relations, and her team are responsible for the event's logistics, budget, stage design, printed materials, volunteer coordination and more.
While Rogina plays a large role in commencement, the culmination of the academic experience is a campuswide effort.
"The planning and execution of commencement would not be possible without the work of many people from several departments across campus," she said.
Rogina has spent the past nine years managing small and large events across campus, but event planning isn't where her career began.
She graduated from St. Mary's College with a bachelor's degree in economics and business administration. Upon graduation, she worked briefly in the financial services industry.
In January 2007, she joined UC Merced's University Relations (later restructured as Development and Alumni Relations) and has been an instrumental part of the team ever since.
When she isn't on the phone confirming important details with vendors or leading an event walk-through, she is spending time with her two sons.
Commencement is just one of the many events that Rogina helps orchestrate throughout the year. She recently gave Panorama a glimpse into her role at UC Merced.
Please describe what your job entails.
I am responsible for the comprehensive planning, management and execution of special events — ranging from high-visibility, large-scale university events to intimate donor events, including commencement and signature donor recognition events hosted by Chancellor Dorothy Leland.
This involves the strategic planning of university event and development concepts, comprehensive budget planning and management, formulating campus practices related to events and recognition of donors at events, development and implementation of strategic communication plans, composition and design management of print materials in accordance with university protocol, oversight of multiple contractors and subcontractors, and other event-related logistics. 
While I have several events in my portfolio at any given time, commencement is one that I work on almost year round, because the initial planning for the ceremonies begins over the summer months.
What attracted you to UC Merced?
I am from Merced originally and wanted to return to the area after college so I could be close to my family. Although I never planned for a career as an event professional, I was fortunate to find a position at UC Merced that fit my skill set.
The university has been and will continue to be a positive influence and presence in the Central Valley. I am very grateful for the opportunities that UC Merced brings to the region.
What do you find most rewarding about your job?
I have had the privilege of planning several milestone events for UC Merced. It has been wonderful to watch the university grow and to play a role in the celebration of these milestones, like groundbreaking events, ribbon cuttings, grand openings and anniversary celebrations. Two events that stand out are Commencement 2009 for the inaugural class, featuring first lady Michelle Obama as keynote speaker, and awarding the Alice and Clifford Spendlove Prize in Social Justice, Diplomacy and Tolerance to former President Jimmy Carter.  
The nature of events requires you to be prepared for unexpected circumstances, but there are also the unexpected moments that can bring a greater purpose to the occasion — like an inspired donor who stands up and pledges additional philanthropic support, or a heartfelt message from a student that inspires a guest to provide a scholarship, fellowship or other type of philanthropic support. Creating a successful event or atmosphere that provides an opportunity for these moments is very rewarding.
Another rewarding aspect of my job is having the opportunity to play a role in planning commencement. The energy at commencement is infectious; you can feel the excitement of the graduates and their families. It's rewarding to plan the ceremonies and watch the graduates cross the stage.
What are some of the challenges you face in your role?
Like many others, our biggest challenge is related to space. As a developing campus, we do not have dedicated indoor venues on campus that fit our needs at this point in time. 
Another challenge is creating a unique event each time in order to create a bond between individuals and the campus — not only for the first-time visitors, but for those who have been friends of the campus since the beginning. This takes months of strategic planning and an extremely high level of attention to detail. 
Is there anything you always wanted to do but haven't?
I enjoy traveling and there are a number of places that I would love to visit but have not yet had the opportunity to, including Portugal and Ireland.
Tell us something interesting about you that people might not know.
I am on the committee for the Merced chapter of Make-A-Wish Foundation Central California. We host an annual event each April to raise funds in order to grant wishes for children in Merced County. I also serve as a wish grantor, which is a new role for me. I am inspired by the work of this organization and I am grateful for the opportunity to contribute.