Events Encourage Community Building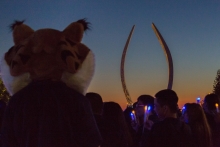 Last year during the first week of November, the campus community witnessed numerous acts of bravery, an overwhelming sense of solidarity and an outpouring of support from the extended community. 
There are several opportunities planned this week to further strengthen the Bobcat community, help the campus continue to foster better relationships and thank those who supported the university in the year since the events of Nov. 4, 2015.
On Thursday, Nov. 3, the Student Alumni Association is hosting Friendship Day from 10 a.m. to 2 p.m. along Scholars Lane. Visit the photo booth, make a friendship bracelet, write a note for the friendship tree and purchase a Friendship Cookie to support the MSSM Friendship Scholarship.
Friday, Nov. 4, is Bobcat Strong Day. Staff and faculty members are encouraged to wear #BobcatStrong T-shirts or other blue-and-gold shirts to show their Bobcat solidarity, strength and pride.
Saturday, Nov. 5, is a community Day of Service. Show your appreciation for the greater community's support by volunteering in the Merced area. 
If you find yourself struggling this week, counseling is available for staff and faculty members through the INSIGHT Employee Assistance Program. All services are private and confidential.