Excellence Awards Honor, Engage Staff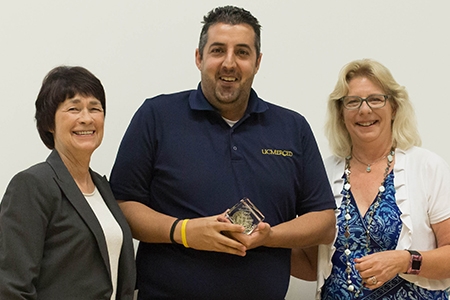 Mort Peyvandi remembers when he found out he won a Staff Excellence Award.
It was last August, during the Staff Convocation. Peyvandi, a data systems analyst with Development and Alumni Relations (DAR), knew he had been nominated and was a finalist in the Creativity category for his work on his division's tracking system, DARTS.
"I knew that all of the finalists were deserving of this prestigious award," he said. "When I heard my name announced, I was very surprised. It was a great feeling to be recognized by my peers and acknowledged for my work."
Last week, UC Merced's Staff Assembly announced the call for nominations for the 2017 Staff Citation of Excellence Awards, and Peyvandi encourages staff and faculty members to nominate a staff employee. The deadline to submit nominations is noon Thursday (April 13).
"It's a great way to let someone know how much you appreciate their work and efforts," Peyvandi said.
Each year, Staff Assembly recognizes and celebrates UC Merced staff members for their outstanding achievements and meritorious service to the university.
Awards in Six Categories
This year, up to six individuals will be honored in the following categories:
Customer Service and Job Performance
Creativity
Teamwork
Organizational/Leadership Abilities
Community Involvement and Public Service
Manager (new)
Nominees in the first five categories must be professional and support staff (PSS) members and may be represented or non-represented. Career employees in the clerical and allied services (CX) unit are the only represented employees eligible to receive the cash award at this time.
This year, Staff Assembly added a new category for Manager. Eligible nominees for the Manager award must have a current Career Tracks manager classification, and must have served in the classification at least one year. Managers who are in the Senior Management Group are not eligible for nomination.
Information regarding award categories, eligibility criteria and the nomination process is available on the Staff Excellence Awards Guidelines page of the Staff Assembly website.
Submissions must include Statement of Nomination and Statement of Endorsement forms from two separate employees. Nominations submitted without both statements will not be considered.
Award winners will be honored during Staff Convocation in August and presented with a personalized crystal cube, a commendation letter signed by the chancellor and Staff Assembly president, and a $500 cash award, subject to tax withholding.
Awards Honor Exceptional Staff
Each winner's names will be inscribed on a perpetual plaque in the Leo and Dottie Kolligian Library's third-floor administrative wing reception area.
Peyvandi's nominator lauded his work on DARTS. Through his enterprise, he learned of a program that allowed the campus to receive licensing for the DARTS platform free of charge. He also located two development firms that agreed to assist with the project on a pro bono basis. As a result of Peyvandi's work, DARTS was delivered to the campus at no cost and tracked more than 230 submitted work orders by more than 30 employees in its first year.
The awards are one way UC Merced and Staff Assembly engages and supports exceptional staff members, said Staff Assembly President Pam Taylor.
"Peer-to-peer recognition is huge, and it's important to recognize the great work staff members do for the campus and the community," Taylor said.
Peyvandi agreed. He keeps his Staff Excellence Award in his home, on display in a room that holds personal treasures, including family photos, awards and memorabilia. The crystal cube sits between two replica football helmets, including one from his favorite football team, the New York Giants.
"I want to personally thank Chancellor Dorothy Leland and Staff Assembly for having such a great program to recognize staff members for all of our hard work," he said.
A list of previous Staff Excellence Award winners is available on the Staff Assembly website.