Exhibit Showcases Central Valley Life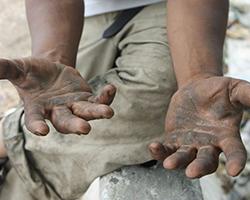 An exhibit coordinated by a UC Merced professor weaves together music, literature, photography, video and oral history to tell stories of the workers who keep the region's economy moving.
"Central Valley Threads: Picking Out Strands of Life and Art in the Central Valley" opens at the Merced Multicultural Arts Center on Sept. 21. The date includes a 6:30 p.m. reception with music, food, drinks and a live-cinema performance. A keynote address by regional author Gerald W. Haslam is scheduled for 8:15 p.m.
The exhibit runs through Oct. 4 at the center, 645 W. Main St.,  Merced. Admission is free.
The project brings together a range of academic and artistic disciplines. Coordinated by UC Merced Professor Jan Goggans, the show is made up of half a dozen smaller exhibits. Goggans's own project focuses on the life and work of poet Wilma McDaniel — whose collected writings reside at UC Merced. Other projects profile hillbilly music queen Rose Maddox and the worlds of contemporary truckers, the homeless and the region's marginalized poor.
"What's so exciting about this exhibit is its focus on people who have not been seen in traditional museum shows," Goggans said.
The exhibit takes a variety of forms and media. Presented with McDaniel's poetry are personal items illustrating the poet's life.
UC Davis Professor Susan Kaiser, a fashion studies scholar working with Goggans on the exhibit, looks at the ornate stage outfits worn by Maddox and her performing brothers.
Poet McDaniel and singer Maddox were both part of the great migration of Oklahomans to California of the 1930s. Maddox and her clan survived on a "mix of fruit and guitar, fiddle and bass picking," Kaiser said. "Today, there's much to learn from the sense of hope she and her family brought to the Central Valley."
Other parts of the exhibit remind viewers that long road treks remain at the core of the Central Valley experience. Created by Glenda Drew and her husband, Jesse Drew, of UC Davis, "Central Drive" is a live-cinema video presentation that explores life on the highway. Another exhibit, by Glenda Drew and artist-photographer Melissa Chandon, follows the lives of truckers. Also employing photography, UC Merced literature instructor Ray Winter looks at the enduring presence of hunger and homelessness in the Central Valley. Another video project, by Glenda Drew and her husband, traces country-western music's working-class origins.
If anything ties the exhibit together, it's the central experience of movement in the Central Valley, Goggans said.
"All the exhibits look at how we produce meaning through mobility," Goggans said. "If you can't get up and down I-5 and Highway 99, you can't get by in the Valley."
Central Valley Threads is presented in part with $25,000 from the UC Humanities Research Institute. The contribution is part of the institute's Humanities and Changing Conceptions of Work initiative, a multicampus project funded by an $800,000 Andrew W. Mellon Foundation grant.