Faculty Forum Hosts Graduate Student Success Events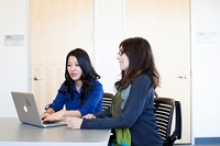 Faculty members looking for ways to support graduate students will want to mark their calendars for two events this month.
Vice Provost and Dean for Graduate Education Marjorie Zatz and faculty panelists will lead discussions on how to help graduate students succeed. Zatz will also provide an overview of the Graduate Division's new fellowship and professional development opportunities for graduate students.
Professors Asmeret Asefaw Berhe, Teenie Matlock and Kara McCloskey will share strategies on how to write reference letters for students applying for national predoctoral fellowships. All three have experience as predoctoral fellowship reviewers/panelists. The event is from 1 - 2 p.m. Oct. 13, in Room 250, Student Services Building. 
From noon - 1:30 p.m. Oct. 15 in KL 232, Professors Nella Van Dyke, Ajay Gopinathan and Valerie Leppert will discuss funding and mentoring graduate students. A light lunch will be provided.
These events are hosted by the Graduate Division and are part of the Faculty Professional Development Series co-hosted by the Senate Committee on Faculty Welfare, Diversity and Academic Freedom and the Academic Personnel office. To register or for more information, email
Kahil Morales
.