Faculty Member's Costume Design Illustrations Undergoing Digitization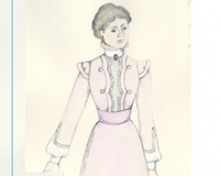 The UC Merced Library is involved in an ongoing project to digitize approximately 2,000 illustrations of costume designs by Professor Dunya Ramicova, with the School of Social Sciences, Humanities and Arts.
This project is an attempt to document a singular, decades-long body of work. When completed, it will stand as one of only a few digital collections of costume designs by a single creator available anywhere.
The UC Merced Library began the project last summer, when Ramicova delivered a large portfolio containing more than 1,000 illustrations. Another batch was delivered later in the fall. To date, more than 1,500 items have been scanned, with accompanying metadata created.
Once the digitization process is completed, the files will be loaded into the new University of California Libraries Digital Collection Digital Assets Management System (UCLDC DAMS) and will be accessible to the public via the new Calisphere interface. The physical copies of the illustrations will be housed permanently in the library's special collections.
Alongside the digitization efforts, the library is developing a website that will showcase the entire collection along with other information and media.
Meanwhile, a number of events are in development to coincide with the project's official launch, which is slated for fall. 
More information about Ramicova is available online.