Faculty Members Honored at Reception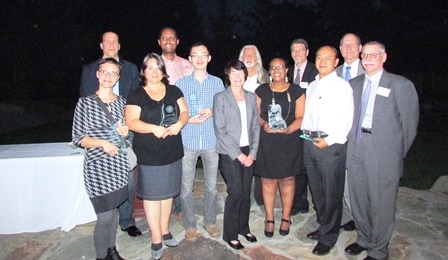 UC Merced faculty members were honored during the second Promotion and Tenure Recognition Reception held last month.
The reception honored a dozen Senate faculty members promoted during the 2013-2014 academic year, in addition to all Senate faculty promoted to step IV at UC Merced in previous years. Chancellor Dorothy Leland, Provost and Executive Vice Chancellor Tom Peterson and interim Vice Provost for the Faculty Gregg Camfield presided over the event. 
A key measure of a university's excellence is the quality of its faculty members and their scholarly achievements. To earn tenure, each faculty member must go through a complex and thorough review procedure. Each is evaluated on criteria including teaching, research, creative work, professional competence and activity and public service.
Here are this year's honorees:
YangQuan Chen
Jennifer Lu
Mayya Tokman
Tao Ye
Laura Hamilton
Christina Torres-Rouff
Alexander Whalley
Asmeret Asefaw Berhe
Michael

Cleary 
Teamrat Ghezzehei
Chris Kello
Marcos

Garcia-Ojeda
Paul Gibbons
Roger Bales
Anne Kelley
David Kelley
David Ojcius
Evan Heit