Faculty, Staff Step Up to Support Students on Giving Tuesday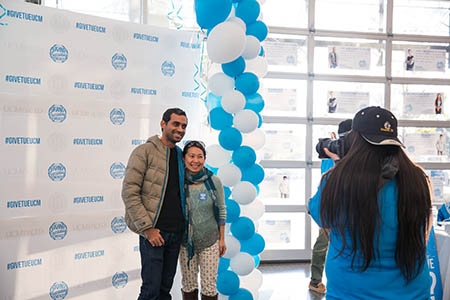 It shouldn't surprise anyone that Giving Tuesday UC Merced successfully exceeded the campus's fundraising expectations. Raising more than $700,000 in about 24 hours is no small feat, especially for a campus only in its 12th academic year.
What is especially noteworthy, however, is how much the campaign's success was built upon the support of faculty and staff members.
Of the 769 individual donors who participated in the fundraising campaign, 29 percent identified themselves as faculty and staff. Their gifts, combined with matching funds donated by Wells Fargo and Foster Poultry Farms, equaled more than $166,000 — about a quarter of the total gifts collected.
Vice Chancellor of Development and Alumni Relations Kyle Hoffman was not surprised by the results.
"This is what makes UC Merced unique," he said. "The fact that staff and faculty members generously invest in our students, that we have alumni who are now staff members who want to make an impact as donors, that even former employees continue to give — it all shows how invested our campus is in the success of our students, and how that level of investment continues to grow."
This year's campaign was — true to UC Merced form — unique in itself. Not only did the number of individual gifts received double over the previous year, but multiple donors gave multiple times.
Dulcemaria Anaya is one example. The 2011 graduate works in the Calvin E. Bright Success Center. On Giving Tuesday, she chose to donate to three scholarship funds, all of which were matched 3-to-1: the UC Merced Alumni Association Scholarship, the San Joaquin Valley UC Alumni Network Scholarship and the Dream Act Scholarship.
"I am grateful for all of the opportunities UC Merced has offered to me, and I wanted to give back to our students because they deserve the same opportunities," she said. "I am always amazed at how driven our students are and how much potential they have to fulfill their dream careers."
Fourteen student support funds — 13 undergraduate scholarships and one graduate fellowship — were matched, including scholarship funds hosted by each of the campus's three academic schools. This year, the School of Engineering raised the most among the schools — $25,210 — a dramatic increase over the $9,476 it raised in 2015 and $3,420 in 2014.
The totals exceed the hopes and expectations of Dean Mark Matsumoto.
"I am very pleased by the scholarship support we received on Giving Tuesday," he said. "These funds will allow us to help well-deserving, financially limited students continue and concentrate on their studies."
Those words were echoed time and again by donors who gave in person at the Give Tue HQ in the Lantern on campus and the multiple pop-up locations at off-campus sites. 
"Clearly, we are aware of the challenges our students face; we are all in it together to make UC Merced a special place of opportunity for our students."
To make a year-end gift to UC Merced or for more information on giving, email giving@ucmerced.edu.