Federally Funded Research to Provide Clarity in State Water Supply
Research in the Sierra Nevada central to addressing challenges to California's water security and its link to the health of Sierra Nevada ecosystems will continue into 2018.
The National Science Foundation awarded the University of California, Merced, $5 million to continue this work on the water, forests and climate of the Sierra Nevada for another five years, said Professor Roger Bales, who also heads UC Merced's Sierra Nevada Research Institute.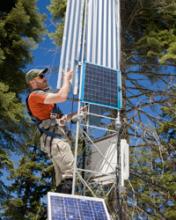 Bales and fellow UC Merced Professors Martha Conklin and Steve Hart lead the Southern Sierra Critical Zone Observatory (CZO) near Sequoia-Kings Canyon National Park.
The CZO is located in and near the Sierra National Forest, and is a partnership among researchers from the U.S. Forest Service, several UC campuses and other agencies.
As part of the nationwide network, the Southern Sierra CZO investigates questions of how mountain soils and weathered rock develop over geologic time, and interact with shorter-term climate variability and ecosystem changes. 
Results from the CZO program, which started in 2007, have led to an unprecedented understanding of the amount of mountain precipitation returned to the atmosphere by forest vegetation, and how soil and bedrock properties, which vary across the landscape, control this flux.
Over the next five years, the UC Merced team and its collaborators from other campuses will build on that understanding to improve predictions of streamflow, water use by forest vegetation and groundwater recharge in the Sierra Nevada. Team members will also work with resource managers and policy makers responsible for California's water future, Sierra Nevada land stewardship and adaptation to climate change.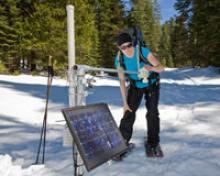 The mountains are California's natural reservoir, and as more winter and spring precipitation falls as rain, there is less in storage for increasingly drier summer and fall periods.
Measurement technology developed by the CZO team is already being tested in other areas of the Sierra Nevada to provide more accurate forecasts of water supply, as well as quantitative estimates of the effect of forest thinning and wildfire on the mountain water cycle.
"The understanding and technology from this research will reduce uncertainty in forecasting for hydropower, water supply and water use within forests," Bales said.  "These water forecasts are important for California's agricultural and urban economies, which must plan based on projections of how much water is available and when."
That kind of decision making depends on the best obtainable information.
"Our approach involves detailed measurements as the foundation for new knowledge," Conklin said. "We are investigating questions that require new data, and cannot be solved just by better modeling."