Fellowship to Support Research into World Heritage
Two UC Merced graduate students will continue their research into world heritage with the support of prestigious Marie Curie Fellowships.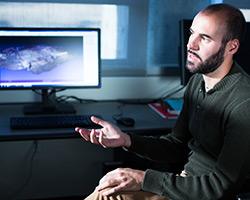 Fabrizio Galeazzi and Paola Di Giuseppantonio Di Franco were each awarded Marie Curie Intra-European Fellowships for Career Development, allowing them to take their innovative research to the United Kingdom.
There were nearly 5,000 applicants to the fellowship program and only 14 percent of the projects were funded, according to the European Commission, which awards the fellowships as well as representing the interests of the EU as a whole by working on legislation and other matters. Galeazzi and Di Franco both had to get strong commitments from the host institutions for the applications, which took six months to prepare.
"The acknowledgement and recognition of my work came when the McDonald Institute for Archaeological Research in Cambridge liked what I was doing at UC Merced," Di Franco said.
Galeazzi, who is developing ways to share 3D simulations of cultural heritage in real time over the Internet, will spend the next two years with the Centre for Digital Heritage, which is part of University of York's Department of Archaeology. His research also includes studying various 3D technologies to understand their different benefits and limitations for the preservation and reconstruction of the past.
"The University of York has one of the best archeology departments in the UK," he said. "It's a good fit for me since my new project will be part of a major European effort to develop cyber-infrastructures for the preservation of 3D data, allowing me to work with different stakeholders, increase my network and start future collaborations."
Galeazzi's Ph.D. adviser, School of Social Sciences, Humanities and Arts Dean Mark Aldenderfer, helped him develop his innovative approach that fuses world heritage, digital technology and archeology. He also gained valuable field experience in Mayan archeology working with Professor Holley Moyes.
"I was thrilled to learn that Fabrizio had been offered this award. It's a testament not only to his hard work and innovative research but also to the strength of the program in world heritage that the school has worked hard to maintain over the past few years," Aldenderfer said.
Di Franco will be at Cambridge University's McDonald Institute for Archaeological Research. Her research looks at how people perceive ancient artifacts through different media such as photos, 3D simulations, 3D prints or original artifacts. She's shown that people focus on different qualities of different objects depending on how they're interacting with it, and that each medium produces a different level of engagement influencing the understanding of cultural heritage.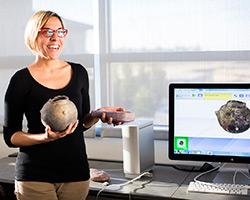 "UC Merced shaped my mind," she said. "It is a new campus where it is easy to engage with other disciplines and start collaborations."
Her dissertation has allowed her to cross disciplinary lines and work with cognitive science Professor Teenie Matlock and graduate student Justin Matthews. She also gained research experience working with the Center for Research on Teaching Excellence and lecturer Anne Zanzucchi, who is also co-director of the Merritt Writing Program.
Di Franco hopes to apply some of her research at exhibits in Cambridge's Museum of Anthropology and Archaeology. Understanding how people interact with artifacts can potentially lead to a much richer experience for museum visitors, she said.
Professor Kathleen Hull, who co-advises Di Franco, said the fellowships are an example of how UC Merced's cutting-edge research training prepares scholars for promising careers once they graduate.
"Receipt of the Marie Curie Fellowship speaks not only to the innovation and quality of Paola's scholarship, but also the opportunities for interdisciplinary graduate research that UC Merced provides," Hull said. "I'm extremely proud of Paola's accomplishments to date, and anticipate that her post-doctoral research at Cambridge will be equally significant and path-breaking."