Finalists Selected for Chancellor's Innovation Awards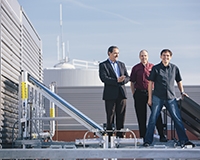 Earlier this year, Chancellor Dorothy Leland announced the launch of the Chancellor's Innovation Awards, a new program designed to encourage staff members to submit innovative and transformative ideas that improve the way we work at UC Merced.
Thirty-four entries were received, and that list has been narrowed to 10 finalists. Now, the next phase of the competition begins.
Each finalist will create either a PowerPoint presentation or a 2- to 3-minute video that describes his or her proposal. The presentations will be uploaded to a website, and the campus community is invited to review and vote on them.
Winners will be determined based on a combination of votes by a chancellor-appointed judging panel and popular vote by faculty and staff members and students. Voting opens June 1 and closes at 11:59 p.m. June 19. Voters may cast only one vote.
Links to the posted presentations and the voting site will be distributed around June 1. Winners will be announced in July.
In addition to improving the working environment at UC Merced by way of their proposals, winners will receive the following cash prizes:
One first-place prize of $5,000
One second-place prize of $2,500
One third-place prize of $1,000
Five honorable mention awards of $500
Cash awards are grossed up to cover tax withholding. Winners also will be invited to a special dinner at University House to discuss their innovations with the chancellor and campus leaders and to develop strategies for implementation.
As UC Merced prepares to enter its next phase of development, the campus will face challenges that require it to be a leader within the University of California system. The winning proposals will assist UC Merced in its strategic workforce planning efforts and helping the campus achieve excellence in organizational operations, customer service and fostering a positive workplace environment.