First Group of Recruited Student Athletes Hitting the Courts at UC Merced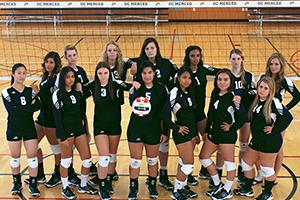 Nine new members of this year's UC Merced Women's Volleyball team, from all around the Central Valley, are among the campus's first group of recruited student athletes.
They began playing in mid-August, and have already hosted their first tournament.
This weekend (Aug. 31) the volleyball players are at Concordia University in Irvine to play in the 2012 Asics/Wyndham Hotel Labor Day Classic.
"This is going to be a tough schedule," said Coach Allen McCreary. "We're going to play some of best teams in NAIA. But you have to play the best to be the best."
With nine new members and an all-conference player returning, the key to a successful season is going to be how quickly the players come together as a team, McCreary said.
The new recruits, who can play multiple positions, and the six returning players, all have good experience that will help the team when it faces highly ranked teams, McCreary said. Playing teams that ranked Nos. 2, 5, 16 and 17 last year will make for a tough road this fall, he said.
McCreary said UC Merced has the ability to be a top-three contender in the California-Pacific Conference, and has a good chance of going all the way in the championships.
Though each of the nine players was recruited for her prowess on the court, they will all be expected to excel at their studies, too. Their majors are varied, and include literature, human biology and engineering.
"They are all going to hold important pieces of the puzzle," McCreary said. "They are excited to be here, and excited to show what they bring to the school."
When recruiting, McCreary said, he set out to find players who are well rounded, have a lot of heart and determination and good skills, but also women who are open to trying new ways of doing things.
"We look for good athletes who can play at a high level," he said.
This is McCreary's second year of coaching women's volleyball at UC Merced, and the campus' second year of having an NAIA volleyball team. The campus added two new NAIA-sanctioned teams this year — women's soccer and women's basketball, bringing the total to eight.
"Eight teams is a good place to be right now," said athletics Director David Dunham. "We want to be able to focus on these teams and do really well before we expand again."