Fresno Grizzlies Welcome Bobcats on UC Merced Night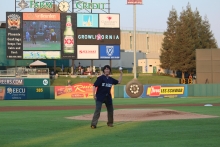 It was an evening filled with entertainment, food and fireworks on Aug. 26 at the Fresno Grizzlies' first ever UC Merced Night.
Nearly 200 faculty and staff members, students, alumni and friends of the campus came out in full force to support the reigning Triple-A Minor League Baseball champion Fresno Grizzlies as they faced the Sacramento River Cats. Before the start of the game, Chancellor Dorothy Leland visited with the UC Merced contingent, offering hellos and posing for selfies before she threw the ceremonial first pitch.
UC Merced mascot Rufus Bobcat played games on the baseball field with Parker, the Grizzlies' mascot, before he made his way to the stands to take photos with children in attendance. The Office of Student Life provided free tickets to the first 100 students who signed up to attend. UC Merced Staff Assembly sweetened the deal for staff members by offering 100 half-priced tickets.
The evening concluded with a fireworks show that lit up the Fresno skyline.