Get Your Stroll on During UC Walks on June 1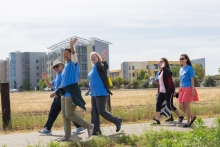 Grab a pair of sneakers and a water bottle and get ready to move during the annual UC Walks event at UC Merced.
UC Walks is the annual systemwide event that encourages University of California faculty and staff members to take time out of their day to go for a stroll in the name of wellness, community and campus spirit.
At UC Merced, all walks will take place from 8:30 to 11:30 a.m. and each off-site location will host a walk. Getting involved is easy. Participants are asked to bring their CatCards to check in at the UC Walks registration table, and each person is asked to walk for at least 15 minutes. Registered participants will receive free UC Walks T-shirts while supplies last.
There will be drawing for prizes for participants, including a FitBit Flex donated by Kaiser, fruit-infused water bottle donated by the UC Merced Benefits office, and additional prizes donated by UC Merced Benefits, Anthem Blue Cross and Health Net Blue and Gold.
Several campus administrators will lead walks. To join a UC Walks group, please RSVP via IntelForm.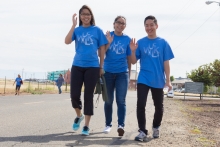 Campus walking groups, led by the following people, will meet at the Yablokoff-Wallace Dining Center:
8:30 a.m.: Vice Chancellor Kyle Hoffman
8:45 a.m.: Provost and Executive Vice Chancellor Tom Peterson
9 a.m.: Associate Chancellor Luanna Putney
9:30 a.m.: Chief of Police Chou Her
10 a.m.: Dean Jill Robbins
10:15 a.m.: Assistant Vice Chancellor Tibor Toth
10:30 a.m.: Vice Chancellor Charles Nies
11 a.m.: Senior Assistant Dean German Gavilan
Castle walking groups check-in at the Castle main entrance:
Fresno walking group, check in at the Fresno Center lobby on Shaw Avenue
Mondo/Parcade walking groups, check-in at the Parcade main entrance
8:30 a.m. 
9:30 a.m. 
10:30 a.m. 
Promenade walking groups, check-in at the Promenade main entrance
For more information, email the Benefits office. To RSVP UC Walks, submit your registration via IntelForm.