Giving Season Starts With A Bang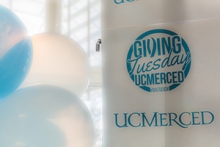 Giving back and performing acts of public service are an important part of UC Merced's mission, and the end of the year is just one of many times when campus community members step up to make a difference in the lives of others.
Several philanthropic activities and events to benefit students and Merced community members in need are happening in December and January — and the holiday giving season kicked off in a big way this week with the Giving Tuesday campaign.
Giving Tuesday Nets Over $250K
This year's Giving Tuesday event was a wild success. Undergraduate scholarships and other campus programs were boosted by more than $254,700 in donations placed on Dec. 1, thanks to a generous 3-to-1 match from Foster Poultry Farms and Wells Fargo.
Twelve funds were eligible for the match. Of those, the following funds received more than $20,000 in donations: University Friends Circle Endowed Scholarship ($30,600), UC Merced Alumni Association Scholarship Fund ($28,106) and School of Natural Sciences Scholarship Fund ($23,738).
Early reports show that 420 individual gifts were received during the Giving Tuesday campaign, which is a 66 percent increase over the number of gifts received during last year's inaugural event, which raised more than $40,000.
"We set an ambitious goal to double what was raised last year," said Kyle Hoffman, vice chancellor for Development and Alumni Relations. "We're still in shock at how quickly we surpassed that $100,000 goal."
Hoffman said the distribution of support was also impressive, with about 49 percent of the gifts submitted by UC Merced faculty and staff. Final results regarding alumni gifts are still being determined.
Up Next: Toy Drive, A Home for the Holidays
Two other giving opportunities happening this month are the Chancellor's Toy Drive and A Home for the Holidays. The toy drive, hosted by the Office of the Chancellor and Staff Assembly, is happening from 3:30-5 p.m. Thursday, Dec. 17 at the northeast end of Scholars Plaza, in the courtyard between the Social Sciences and Management Building and Student Services Building.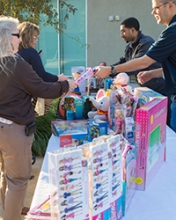 Faculty and staff members are encouraged to donate a new, unwrapped toy, and attendees can enjoy hot chocolate, cider and holiday treats and capture memories with colleagues in a photo booth during the event. This year's donations benefit the United Way of Merced County.
Meanwhile, the Office of Student Life (OSL) Civic Leadership is once again spearheading A Home for the Holidays, an outreach program that will benefit All Dads Matter, a Human Services Agency program that serves families in Merced. OSL Associate Director Vernette Doty said the goal is to assist 50 families — twice as many as last year — by helping them meet some basic needs by providing jackets, underwear, pajamas, shoes and other items.
Small holiday trees adorned with envelopes have been placed in buildings around campus and at satellite locations. Each envelope represents a family, and the number written on the envelope indicates the number of children in the family. The envelopes contain a list with the age and clothing size of each child, along with two or three of their needs.
Helping parents provide their children with essential items like jackets or shoes means a lot to families who are struggling to make ends meet, Doty said.
Donors are asked to pick an envelope, purchase one item for each child, wrap gifts and drop them off at OSL by 4 p.m. Dec. 18. Monetary donations will also be accepted and will be used to purchase grocery store gift cards for the families, Doty said. Donation checks, which can be dropped off in OSL, should be made payable to the UC Regents.
United Way Campaign Starts Jan. 11
The holiday giving efforts are a precursor to UC Merced's annual United Way campaign, which begins Jan. 11 and continues through the end of February. Campaign organizers are working on details leading up to next month's launch.
Employees who are interested in volunteering for the United Way campaign can contact Kim Garner or Sonia Johnston. A training lunch for volunteers is scheduled to take place during the first week of January, so stay tuned for details in the coming weeks.