Good Service is Music to IT Director's Ears
This profile, written by UC Merced IT Communications Officer Desiree Silva, first appeared in the July 21 UC IT Blog.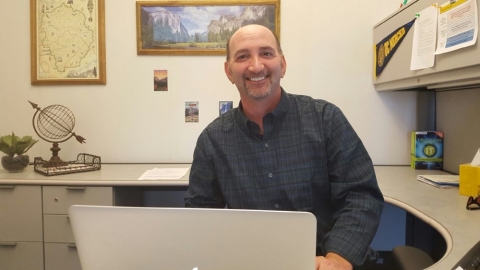 Kent Carpenter has worked in information technology for nearly 20 years, so it's safe to say he's seen many changes since he started his career.
When he landed his first job out of college, laptop computers were new, the Internet was still in its infancy and smartphones weren't so smart. Much has changed in IT over the years, but one thing that hasn't is Carpenter's dedication to providing the best possible service to customers.
As director of UC Merced's Office of Information Technology, he plans to continue that commitment.
Carpenter, who joined the campus in January, enjoys working in a higher education environment. Prior to his role at UC Merced, he was IT manager for desktop support at Pearson Education in Denver, a company that provides education products and services to institutions, governments and individual learners. Before that, he spent much of his IT career working for major insurance companies.
He earned his MBA from Cardinal Stritch University in Wisconsin. He also has an IT Infrastructure Library (ITIL) Foundations certification and a project management professional (PMP) certification. Carpenter credits his affinity for higher education environments in part to his student experience at California State University, Northridge.
"I had a great experience at CSU Northridge, along with my three best friends," said Carpenter, who earned a bachelor's degree in computer science. "Working at UC Merced reminds me of the great experiences I had during those years. I appreciate the (greater) cause of higher education: educating our students by enriching their lives while they help make the world a better place."
Carpenter's focus as director of Information Technology is to continue to improve the customer experience. His plans include building IT's service offerings, driving more self-help functions and streamlining processes. He also hopes that UC Merced's presence and growth will lead corporations to relocate to Merced and tap into the talent pool coming from the campus. That, in turn, will help keep talent in the Central Valley.
When he's not keeping technology running smoothly at work, he enjoys outdoor adventures — hiking, fishing and mountain biking. Carpenter is also a musician who plays multiple instruments: trumpet, guitar, banjo, mandolin and piano.
Carpenter has been married to his wife Darleen for 23 years and the couple has two children, Matthew, 18, and Camryn, 16.
Do you know a colleague who would make a great Spotlight profile? Let us know. Contact University Communications.