Governor Names Harris to Fair Employment and Housing Council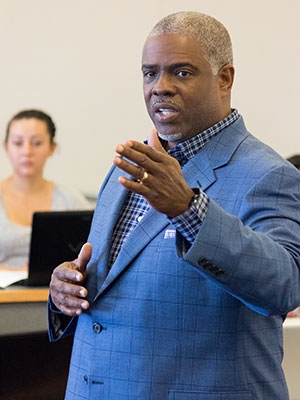 Mark T. Harris, J.D., has been appointed to the California Fair Employment and Housing Council by Gov. Jerry Brown.
Harris has been a continuing lecturer of management and business economics at UC Merced since 2008 and is a practicing attorney in Sacramento.
From 1999 to 2001, Harris served as undersecretary for the California Business, Transportation and Housing Agency under former Gov. Gray Davis. Through his newest appointment, he will focus on promoting employment and housing anti-discrimination laws.
"It is a high honor to serve the governor and the people of the State of California for the second time in my career," Harris said. "It is greatly gratifying to continue the fight for social justice for the underserved, particularly people in the Central Valley who are largely among California's most forgotten residents when it comes to fair treatment in employment and housing."
Harris served as chief deputy at the Alameda County Treasurer and Tax Collector's Office from 1985 to 1988 and was a member of the Sacramento County Planning Commission from 1988 to 1994. He was deputy chief of staff at the U.S. Department of Commerce from 1990 to 1992.
Harris was a visiting professor at the Shanghai Normal University, Tianhua College School of Education from 2011 to 2014, and an adjunct professor at the University of the Pacific Benerd School of Education from 2009 to 2014 and at the University of Southern California School of Policy, Planning and Development from 2000 to 2008.