Graduating Seniors Reveal Their Involvement in Recreation and Athletics
Every year, graduating seniors are invited to take part in the Graduating Senior Survey administered by Institutional Research and Decision Support. This survey gives seniors a chance to reflect on their experiences at UC Merced and share their plans for the future.
One objective of the Graduating Senior Survey is to assess how often UC Merced seniors have participated in the variety of recreational and athletic activities available to all students during their enrollment. These activities range from use of the Joseph Edward Gallo Recreation and Wellness Center to the Intramural Sports offered year-round. Since the campus began tracking these programs in 2012, participation has increased from 35 percent to 43 percent in 2016.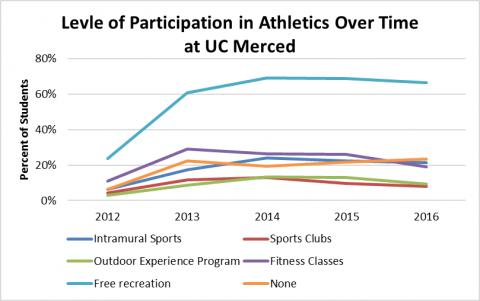 The figure above depicts how the percentage of students participating in programs have changed over time. Today, recreational and athletic programs have more students participating than four years ago, with the largest increase seen in the "Free Recreation" category. The growth of these programs is a benefit to the health and happiness of UC Merced students, however participation has been slowly declining in recent years.
So, why have students chosen not to participate in the variety of recreational and athletic activities presented? According to 2016 graduating seniors, "lack of interest in the programs offered" and "not having enough time" are the main reasons students have not participated, as seen in the figure below.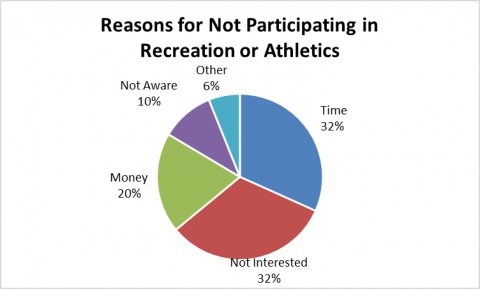 View the entire Graduating Senior Survey report for each year, as well as longitudinal data.