Graeme Mitchell Named New Assistant Vice Chancellor for Facilities Management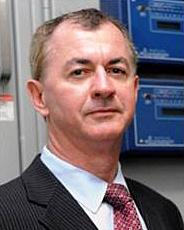 Vice Chancellor for Administration Mary Miller announced this week the appointment of Graeme Mitchell as UC Merced's new assistant vice chancellor for Facilities Management. His appointment begins Tuesday, Feb. 19.
In his role, Mitchell will lead more than 140 staff members who work in Facilities Management's six major areas, which include transportation, fleet and parking; physical plant/maintenance operations; sustainable operations; facility managers; and business operations and campus services, which includes custodial, landscape and grounds, lock and access, shipping and receiving, moving and events, and mail and document services.
Mitchell has 30 years of experience in both the private and public sectors. Before joining UC Merced, he served as vice president of facilities operations and corporate engineering for New York Presbyterian Hospital. He also worked at UCLA for 17 years, where he advanced through the ranks and eventually became that campus's director for health system facilities engineering and construction.