Grant Helps Strengthen Transfer Student Experience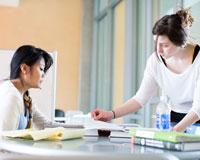 University life can be hard, and for transfer students, it often proves even more daunting.
Studies have shown transfer students typically have low rates of campus engagement and retention, and take longer to earn their degrees. But thanks to a $2.2 million grant from the U.S. Department of Education, that should change at UC Merced.
The grant funds the new Degree Attainment for Returning and Transfer Students (DARTS) program in the Calvin E. Bright Success Center. The program's goal is to have UC Merced transfer students thrive and complete their degrees at increasingly higher rates every year.
"We haven't had services specifically for transfer students, so this is a huge step forward for us," said Elizabeth Boretz, director of the Calvin E. Bright Success Center and the grant proposal's author. "UC Merced is committed to honoring the diversity of its students and their unique educational paths."
Transfer students come from a wide variety of backgrounds. It's not just that they start at UC Merced as juniors that sets them apart from their peers. Their lives often differ, too. Some are parents, some never left home, some didn't have the grades or the financial resources to go straight to UC Merced, and others worked to support themselves or their households and are now embarking on new phases of life.
With the grant, UC Merced is adding three staff members to support the program. One of the positions will be based in the Center for Career and Professional Advancement to provide career counseling and early engagement with internships. Given transfer students are typically juniors, they must acclimate quickly and work diligently toward their goals. The other two new staff members will work in the Bright Success Center to enrich resources for transfer students.
With support staff in place, the program will work to unite transfer students so they feel a sense of community. 
"This fall, new transfer students were outnumbered by new freshmen 16 to one. This can leave them feeling isolated and marginalized," Boretz said. "We already have some experienced transfer students coming forward ready to help their peers in this effort."
Harnisha Dale knows firsthand how difficult the transition from a community college to a research university can be. A senior economics and political science major, Dale started her higher education journey at Fresno City College because her parents weren't comfortable with her living away and she needed to care for a family member. While transferring to UC Merced allows her to go home to help when needed, she still faces some of the same obstacles as other transfer students and sees the need for targeted support services.
"I believe this program will help students transition smoothly into the university system and also teach them how to make the most of their time here," said Dale, who transferred to UC Merced in August 2012. "If students are able to learn basic study tips and also the meaning of being professional, they will have higher chances of succeeding in the future."
The DARTS program will support an alternative orientation program and year-round support like personalized career coaching, leadership training, a textbook lending library and skills workshops based on student-generated needs assessments.
DARTS scholars will benefit by having dedicated space to meet in; opportunities to travel to pre-professional career-oriented events; and access to no-cost, on-demand peer tutoring to accommodate their unique schedules. 
"Transfer students enrich the campus through their determination and past personal, educational, professional and other achievements," Boretz said. "By creating a community and support system for them, their needs and the gifts they bring to the campus will come to light and benefit the campus community."
DARTS is funded through 2018, and staff members are already working to see that the program continues beyond the grant period.