Groups Honor Vice Chancellor Feitelberg with Public Sector Champion Award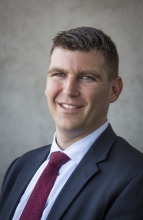 Daniel Feitelberg, UC Merced's vice chancellor for Planning and Budget, was recently honored with an award for his work on the campus's ambitious 2020 Project.
The Performance Based Building Coalition and InfraAmericas, both of which support performance-based public-private partnerships, honored Feitelberg and several others during the groups' awards gala held in mid-June in New York City. Award winners were chosen by ballot, with more than 630 votes cast during a two-week voting period.
Feitelberg won the Public Sector Champion Award for leading UC Merced's 2020 Project, the campus's next major phase of development. The project will use a public-private partnership model to double the campus's physical capacity by the year 2020. New facilities planned include classrooms, state-of-the-art research labs, faculty offices, student housing and recreational facilities. The expansion will allow UC Merced to accommodate up to 10,000 students.
"I am honored to receive this award on behalf of our campus and the 2020 Project team. I am proud of the work they have accomplished over the past three years," Feitelberg said. "Our efforts will help increase access to one of the best public research universities in the world, and I'm privileged to play a role in shaping UC Merced's future."
In June, UC Merced announced Plenary Properties Merced (PPM) as the winning bidder for the 2020 Project. The following month, the UC Board of Regents provided final approval of the project's conceptual design and external financing, clearing the way for completion and execution of the formal contract, which occurred Aug. 12. A formal groundbreaking event will take place in October, and the first phase of buildings is scheduled for delivery in 2018.