Growing Research Week Offers Events and Activities for All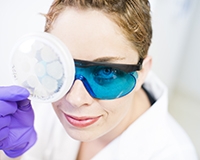 The annual Research Week tabling event has more than doubled in size from last year, and that's just one of the new and growing events featured in UC Merced's weeklong celebration of research.
More than 20 tables have been booked by groups, graduate and undergraduate students, organized research units and scientists, including the UC Natural Reserve System, UC Solar, CalTeach and the Office of Undergraduate Education, which plans a special themed set of tables focused on "Passport to Research Professionalism."
People will find posters and demonstrations at some of the tables, and information at all of them. The Undergraduate Education tables, for example, will offer help with creating research profiles and finding research opportunities; free professional headshots for students; a curriculum vitae review; and a chance to learn about networking, interviews and resumes for research.
Events Scheduled at Campus, Downtown Merced
Research Week takes place from Feb. 29 through March 4 at various locations across campus and downtown, and features work from nearly every discipline at UC Merced.
"UC Merced is a research university, and research infuses everything that we do," Vice Chancellor for Research and Economic Development Sam Traina said. "Nevertheless, Research Week is special because it is one of the few times in the year that the entire campus showcases its many remarkable research accomplishments."
The Research Fair, on Scholars Lane, kicks off the week, followed by a discussion on "Adapting to Changes in Climate: Mountains — Rivers — People — Wildlife" with professors Roger Bales, Tom Harmon and Dan Edwards, and researchers Tapan Pathak and Emmanuel Vincent, all with the Sierra Nevada Research Institute.
Other events that day include the Psi Chi and Merritt Writing Program Poster Session and a Research Information Session sponsored by the Office of Undergraduate Education.
On Tuesday, everyone is welcome to attend the always-popular Student Poster Competition in the gym and the qualifying round of the GradSlam! research presentation competition in the California Room.
Student Poster Competition participants can win gift cards and certificates, and the entry looks good on a resume or curriculum vitae. One grad student and undergrad poster from each school will win.
The UC Merced Venture Lab offers a talk in the afternoon about connecting with the lab to commercialize research. It's a great chance to learn more about the lab and about opportunities to turn research into careers in startups.
New Industry Showcase and Job Fair
On Wednesday, attend the new industry showcase and job fair, called Ag Tech Fair. All students are welcome, and lunch will be provided for those who RSVP online by 3 p.m. Wednesday, Feb. 24. The Center for Information Technology Research in the Interest of Society (CITRIS) is sponsoring the all-day event.
People can also attend "Assessment as Research Symposium: Sharing Practices, Successes and Lessons Learned." Organized by the Campus Working Group on Assessment and the Office of Undergraduate Education, the event features senate and lecturing faculty, staff and students giving brief talks and presenting posters about student learning, the student experience or student success.
Have a free lunch and gain some knowledge when the Health Sciences Research Institute and UC Agricultural and Natural Resources present "Food and the Environment."
On Thursday, there are training sessions and workshops, including how to develop successful Faculty Early CAREER Award proposals and responsible conduct of research. In the afternoon, enjoy snacks and art at Abstracts, Appetizers and Art, a research-oriented mixer.
The last day of Research Week is packed with activities, too.
There's a closing ceremony with an awards presentation in the atrium of the Science and Engineering Building 2, along with a lecture by CITRIS Frontiers in Technology speaker James Kuffner, the area lead in cloud computing at the Toyota Research Institute. Faculty members and graduate students who would like to meet one on one with Kuffner can do so between 1 and 4 p.m. Simply RSVP online.
There will also be a Census Data workshop sponsored by the Spatial Analysis and Research Center and an ASUCM Research Symposium.
The week wraps up with the Resource Center for Community Engaged Scholarship Posters, Reception and Presentation event in City Council chambers at the Merced Civic Center downtown. Come out and see some of the projects that link the campus with the community.
Most events are open to everyone. For more details, check the Research Week events calendar.