Honoring Student Leadership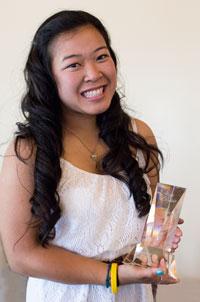 Student employees are a vital part of any university campus. For the past six years, Career Services has sponsored the Student Employee of the Year competition to honor students who contribute their talent and skills to the campus through exemplary work performance and leadership. This year's recipient, Stephanie Fung, is a senior majoring in biological sciences and psychology who plans to attend medical school.  Fung works as a student assistant in the Recreation and Athletics Department and was nominated her supervisor by Robin Embry. 
In all, 24 student employees were nominated for the award and received a certificate of achievement. Second place was awarded to Lauren Butler and third place to Adariana Garcia. 
At the eighth annual UC Merced Leadership Awards, hosted by Student Affairs in April, undergraduate and graduate students and student organizations were celebrated for their service to the campus community.
The 2013 Leadership Award recipients are:
Carol Tomlinson-Keasey Award: Garrett Patton
Legacy Award: Katherine Amrine and Lara Jaber
Contribution to Student Affairs Award: Saema Adeeb and Alex Ela
Distinguished Leadership Award: Alexandra Hamilton and Darrel Justo
Outstanding Graduate Student Award: Heather Thompson
University Friends Circle Community Volunteer Leadership Award: Noel Gomez
University Friends Circle Community Service Organization Award: Energy Service Corps
Cobi Jones Male Athlete of the Year: Surabordin "Ai" Prachurmsri
Georgette "Ma" Kelley Female Athlete of the Year: Ashtin Alves
Outstanding Advisor Award: Tomiko Hale
Outstanding President Award: Kristynn Sullivan
Social Justice Award: Stephanie Toledo
Unsung Hero Award: Samantha Auduong
Student Organization of the Year: Pilipino American Alliance
New Student Organization of the Year: American Medical Student Association
Collaborative Program of the Year: The Carnival of Pink - Colleges Against Cancer and American Medical Student Association
Educational Program of the Year: State Assembly debate for the 21st district of California - Political Science Student Association