Honoring Women Who Make a Difference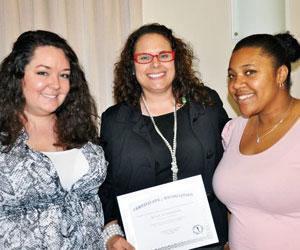 As part of Women's History Month celebrated this month, Women's Programs in the Office of Student Life honored 36 women during the fourth annual Outstanding Women's Luncheon. This year's theme, developed by the National Women's History Project, was "Women Inspiring Innovation Through Imagination."
While Women's Programs coordinated a wide variety of events throughout March, the lunch was the culminating event, celebrating women who are creating positive change by thinking outside the box and challenging the status quo by taking action.
Of the 36 honored, 12 women (noted with an *) were specifically highlighted for making a substantial, positive contribution to the campus community.
FACULTY
Susan Bohrer*
Pamelyn Gingold*
Jennifer Manilay*
Vanesha Pravin
Daisy Reyes
STAFF
Seema Ahuja*
Molly Bechtel
Rosa Campos-Rodriguez
Fabiola Elizalde
Rita Spaur
Annette Garcia*
Emily Langdon
Christina Mayo*
Mary Miller
Lisa Perry
Rena Schneider
Rubi Turner
Karen Linam
GRADUATE STUDENTS
Michelle Greenwood*
Alexandra Paxton
Kristynn Sullivan*
Lynn Sullivan*
Heather Thompson
UNDERGRADUATE STUDENTS
Leslie Anderson*
Kristina Calonge
Montserrat "Nahomi" Camarena
Kathleen Chung
Ruby Dhaliwal
Kimberly Giron
Alexandra Hamilton*
Cherilyn Kasperian
Jessica Lopez
Amanda Pinhero
Stephanie Toledo*
Kalia Turner
Agnes Wong