HR Staffer Meets, Greets New Employees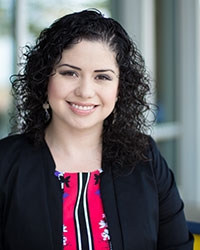 If you've been to New Employee Orientation in the past few years, you've met Yazil Navarro.
On the first Friday of every month, Navarro, Human Resources' learning and professional development manager, makes the trek from The Promenade to UC Merced where she and others help familiarize the campus's newest staff members with the university, its mission, employee benefits, campus resources and other information.
A San Joaquin Valley native with roots in Delhi, she joined UC Merced in 2010 while completing her bachelor's degree in business administration at California State University, Stanislaus.
For Navarro, working with others and helping them achieve their professional goals is just one of the perks of her job.
"I like the customer service side of what I do," Navarro said. "I'm a people person."
She's been with the campus for four years, but UC Merced has long been a part of her life.
"When I was a little, I heard talk about UC Merced coming," she said. "One family member told me that maybe someday I'd end up going to school here or working here."
That projection became reality.
"I also thought what an excellent opportunity it would be to be part of this great university and contribute to the education of students and their futures," she said. "That's a point that I use to connect to the people at orientation."
Navarro and husband, Raul, have been married for five years and are the proud "parents" to three Chihuahuas: Zorro, Tammy and Guera.
Please describe your job and what it entails.
I'm responsible for managing Human Resources' training programs, such as the Management Development and Supervisory Certificate programs, and I identify professional and career development initiatives for staff members. I also develop and implement timelines, manage training budgets and evaluate current learning activities considering our available resources within the university. One of the most exciting aspects about my position is getting to identify areas in which eLearning techniques and strategies can be used to reduce budgetary and time constraints.
What are some of the most rewarding things about your job?
I get to meet new employees at New Employee Orientation and welcome them to UC Merced. Many of them continue to communicate with me to find information and learn about opportunities.
My position provides me with opportunities to help people grow professionally. I truly believe there are no limits in our development goals. It's rewarding when someone completes a program and comes back to tell me how they discovered resources and tools that they can use in their respective areas. I also enjoy the networking benefit. I've had the chance to meet great people who've helped me so much in my current role. I often refer to them as my mentors. I have more than one.  
What new initiatives, projects or plans are you looking forward to in the upcoming year?
There are a few. I'm excited about lynda.com. UC Merced now provides free, unlimited access to the online library of courses on software tools and other skills for faculty and staff members and students. Information Technology (IT) and HR's Professional Development units joined forces to make this initiative a reality for the benefit of everyone on campus.
One of my goals this year is to promote the Career Advancement Management Development Program that kicked off July 1. It provides an opportunity for mentors to share their knowledge and experience with mentees to better equip them to become future campus leaders and to help them excel in their chosen fields. We have the support of senior leaders including the chancellor, vice chancellors and deans, many of whom are serving as mentors already. The program has about has about 17 mentors and 25 mentees.
Lastly, I'm working on a career development initiative for staff members. Personal and professional growth is important to keep people satisfied with their careers. When employees feel stagnant, productivity, efficiency and interest decrease and the organization suffers the consequences. We have to encourage our managers and supervisors to do meaningful performance appraisals that will encourage employees' career development and growth.
Tell us something about you that people on campus might not know.
I'm an adrenaline junkie! I love parasailing, skydiving, bungee jumping and dancing. These activities are great ways to release stress.
I also have a strong interest in immigration and international law. In my spare time, I read articles, books and professional blogs about immigration, deportation, naturalization, customs enforcement and border protection.
As a child, I wanted to become a dentist. I thought the reason some people didn't smile because they didn't like their teeth. So I was going to help them with their dental hygiene so they could smile more frequently.