Innovate to Grow Competition Highlights Student Creativity
From disposable drones mapping wildfire perimeters to increasing the number of young students interested in science, technology, engineering and math studies, this year's engineering capstone and Innovate to Grow teams have real, impactful work to show off.
The annual Innovate to Grow competition and expo at UC Merced takes place today (May 16), across campus, with a variety of events including demonstrations of each team's work, plus blue-ribbon panels and cash prizes. The events are free and open to the public.
"Innovate to Grow is an annual celebration of our students' creativity, and is our launching pad for enterprises based on some of the most promising inventions and solutions they have developed," School of Engineering Dean Daniel Hirleman said.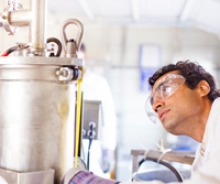 This is the third annual Innovate to Grow competition, and is the culmination of the Innovation and Design Clinic and other spring semester activities. The student teams represent the Engineering Capstone projects and management entrepreneurship courses, as well as Engineering Service Learning, which involves community partners chosen from among the area's nonprofits, businesses and agencies.
For example, Team Get Set, a service-learning group, works with the Merced County school system to provide teachers with tools and activities to help raise interest in science, engineering, technology and math (STEM) by developing supplementary curriculum, visiting classrooms and working with teachers.
Within the UC system, UC Merced ranks second only to UC Irvine when it comes to students majoring in STEM fields. Forty-eight percent of UC Merced's students graduate having majored in STEM fields, and compared with the nation's 200-plus research universities, UC Merced ranks in the top 50 for STEM graduate percentages.
This year also sees the addition of the Wells Fargo Accelerator Award, which provides funding to propel the most promising student innovations toward the marketplace.
"Innovate to Grow puts a new spin on traditional capstone projects. Innovation and entrepreneurial thinking are the signatures of this event, and the intensity of the competition enhances the overall student experience for UC Merced students. Southern California Edison is proud to be supporting these students in solving engineering challenges in the San Joaquin Valley," said Les Starck, senior vice president for regulatory policy and affairs for SCE, this year's lead sponsor of Innovate to Grow.
Student teams work with agencies and nonprofits throughout the region that have real-world engineering design challenges that need solutions. Some of this year's community partners include CalFire, Children's Hospital of Central California, Kaiser Permanente, Hilmar Cheese, Duarte Nurseries, California Department of Water Resources, E. & J. Gallo Winery, Lawrence Livermore National Laboratory and Yosemite National Park. The projects are selected for their potential to produce significant effects on communities, organizations and/or industries.
The program also brings in students from The Ernest & Julio Gallo Management Program's entrepreneurship course to infuse an entrepreneurial mindset into the projects. The commitment of the teams and partners, combined with the challenging projects, culminates with the Innovate to Grow competition.
"It is wonderful to see the companies and private sponsors from the San Joaquin Valley joining forces with UC Merced to have an impact. We can't transform the economic fortunes of the region without innovation from the faculty and students of our research university," said Dr. Vikram Lakireddy, a Merced cardiologist who created the Dr. and Mrs. Vikram Lakireddy Innovation and Design Clinic Endowed Fund.
During the Innovate to Grow event, student teams present the results of their projects and demonstrate their innovations to a jury of industry and community representatives using posters, elevator pitches, videos and presentations to make their cases.
Multiple provisional patent applications have been already filed on inventions coming out of these projects, further exemplifying the creativity of UC Merced students, as well as the commercial relevance of the work they are performing, Hirleman said.
Everyone is invited to attend the various presentations and events to learn more about the teams' work, which this year includes automated pest management for agriculture using unmanned aerial vehicles; wildfire perimeter monitor using drones; a centralized patient alarm system and headgear for tethering breathing tubes to neonatal patients for area hospitals; a new harvester alignment system for reaping sweet potatoes; automated grape-plant grafting; a system that refines bio-char to filter water; a propane-bottle recovery system for Yosemite National Park; and a sensor system to monitor river flows, among many other projects.
Find a full schedule of the day's events, including judging and awards presentations, online.