International Center Manager: 'UC Merced is Changing Lives'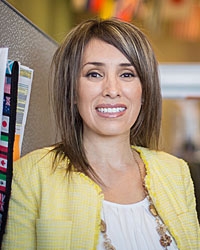 Carmen Middleton is a familiar face to many at UC Merced. She's been with the campus since its early days.
Middleton started in Dining Services as a baker, and worked her way up to lead the workers at the Lantern Café. During her time in that position, she got to work with students — one part of the job she loved — and met many other campus community members.
Three years ago, Middleton joined the
Office of International Affairs
as center manager. She still gets to interact with students on a daily basis but now she tells them — and sometimes their parents — about the benefits of studying abroad. She also is happy to serve as an ambassador for the campus and tout its benefits.  
"This place is so amazing, I love it," said Middleton, a married mother of two boys. "UC Merced is changing lives and I feel like I'm getting a chance to help make a difference, too."
 
Middleton is a success story herself. When she came to the United States at age 20, she didn't speak a word of English. Her first job was at a fast food restaurant. In fact, she held two full-time fast food jobs simultaneously just to make ends meet. She also read Harry Potter books to better learn and understand English. That determination and drive fueled her to work her way up through the ranks. Middleton eventually landed a job at Save Mart, where she worked for a decade before joining UC Merced.
What brought you to UC Merced?
I worked at Save Mart for 10 years. The job I had required me to work on Sundays and holidays. After I came back from maternity leave, I wanted more time with my family. A position opened up in UC Merced's Dining Services for a baker and a friend suggested that I apply for it. I had never been to a university before, so I didn't know what to expect. It was a little scary, but I was hired on the spot. I even took a pay cut because I knew there was something more I could achieve here.
 
This campus has helped me become a more knowledgeable person even for my own children. Before working here, I didn't know what tools or resources were available to my children to help them get into college. Now, thanks to the work that I do, I'm better prepared to help them when they are ready to apply.
Please describe your job and what it entails.
As center manager and administrative officer, I administer and analyze financial and other resource data needed for our budget, the hiring process and our events. I make sure we are in compliance with federal and state requirements and UC policies. The majority of my job involves maintaining behind-the-scenes operations to advance our office's mission. Another substantial component of my job revolves around addressing the various needs of our clients. Our office is devoted to customer service, so I spend time advising clients. Counseling is a daily task and encompasses everything from offering students help with concerns such as studying abroad, international visa status and regulations. I also discuss post-undergraduate international opportunities such us the Peace Corps and teaching English abroad.
 
What are some of the most rewarding things about your job?
There are so many things. Probably the most rewarding is helping students achieve goals they thought were out of reach or helping them take advantage of opportunities they did't know existed. Other rewarding interactions include assisting and empathizing with international students and scholars. This is especially important to me, because I also was born outside the United States and know firsthand the type of daily challenges a foreigner experiences in a new country and culture.
I also enjoy speaking with parents and reassuring them that international education has a wide range of benefits and that the University of California is committed to every student's safety. Often, I give the parents my card and tell them they can contact me. A lot of the parents are my age and some of the Latino families have come from backgrounds that involved challenges and struggles. I want parents to feel that their children are safe here and that they'll be safe when they go abroad.
What new initiatives/projects/plans are you looking forward to in the upcoming year?
As one of the fastest growing units on campus, we are always looking to unveil new initiatives and improve protocols and services to new and prospective study-abroad students. We have a lot going on. We expanded our recruitment efforts and increased the number of classroom presentations we do. We're also revamping our outreach to increase visits to our office and informational sessions we host. One example is a photo contest we launched that displays our students' global experiences.
Our department also updated our visitor-request process to accommodate more visits from international affiliates. We are also looking forward to the upcoming Tea and Chat events, especially the ones we are hosting during the holiday season. We strive to be as accommodating as possible during this season to help our international students and scholars feel as if Merced is their home.
Tell us something about you that people on campus might not know.
I grew up in a very small town in Jalisco, Mexico. Back then, the population was less than 1,200 people. When the secundaria — known as middle school in the United States — opened, I was part of the first class of graduates. At the time, 72 students registered for school but only 23 of us earned our diplomas. I was so proud to be one of those 23 students because some people believed that women shouldn't go to school.