IT, Library Collaborate to Provide New IT Express Service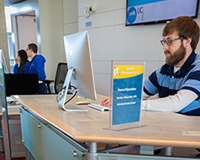 Campus community members now have another resource if they need help or support from Information Technology, and it's located on the second floor of the UC Merced Library for added convenience.
IT Express is a new service point next to the Library Services Desk. The result of a collaboration between the UC Merced Library and Information Technology, IT Express is designed to better meet the research and technology demands of UC Merced faculty, staff and students.
Staffed by IT personnel, IT Express is open from 8:30 a.m. to 5 p.m. Monday through Friday and offers support for tools such as CatCourses, Adobe Acrobat Pro, Sophos, CrashPlan and Box. Other services available include:
Wireless setup
Printer setup
VPN setup
Email configuration
CatCourses (LMS) support
Web browser issues
Computer driver updates
Faculty and staff members can get MS Office, Adobe Acrobat Pro, Sophos, CrashPlan and Box installed, while students can get MS Office Pro Plus via O365, Symantec AV and Box.
Situating the new service point at the Library Services Desk makes sense because the Library Services Desk is centrally located in a visible and highly-trafficked area. During peak hours, 600 to 700 users are in the library. IT Express can support people with their technology needs while they are working or studying in the library. Because the library serves as a de facto student union, a great number of faculty and staff members and students go there between classes and during breaks to study, meet, collaborate or refresh.
The plan for IT Express started last summer when Chief Information Officer Ann Kovalchick approached Eric Scott, associate university librarian of operations, about the possibility of building a new IT service point in the UC Merced Library.
The idea was to combine the knowledge and expertise of IT with the accessibility and strong customer service focus of the library to create a convenient new IT service point for the campus community. Library staff members had already been supporting wireless, printer and VPN needs at the Library Services Desk, but sharing space with IT Express allows for greatly expanded IT expertise, assistance and desktop support.
Technology is a major tool for successfully using the UC Merced Library and its resources, as well as for supporting teaching, learning, research and service across campus.
The UC Merced Library and Campus IT are excited about the new IT Express service point and working together to better meet the needs of the UC Merced community.