Keeping Campus Safe is Staffer's Top Priority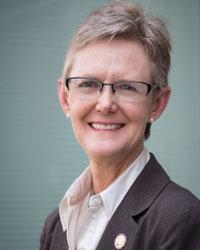 Tamela Adkins joined the Department of Public Safety the month the campus opened its doors to undergraduate students. There were 10 people in the office, compared to 27 now. As support services/emergency services manager, she has played a major role in shaping the department into what it is today.
Adkins came to UC Merced with more than 22 years of service working in communications for the California Highway Patrol. While it was a rewarding experience, she sought a new challenge.
Adkins and her husband, Ed, live in Atwater with their three rescue dogs. When she isn't working, she and Ed spend a lot of time fishing on the lake.
Please describe your job and what it entails.
I oversee records, evidence, Live Scan, and lost and found, as well as the police dispatch center. I am the campus's emergency manager and lead UC Merced's Emergency Operations Center (EOC) team and the Building Safety Coordinator Program. I also manage UCMAlert – UC Merced's mass-notification system.
What are some of the most rewarding things about your job?
The opportunity to work within an innovative, forward-thinking, proactive police department that works tirelessly to ensure the safety of our campus community.   
What new initiatives/projects/plans are you looking forward to in the upcoming year?
In partnership with Risk Services, the Department of Public Safety and Office of Emergency Services will host the systemwide annual 2014 Emergency Manager and Business Continuity Conference in October. All 10 campuses and five medical centers will be represented.
I also plan to continue to coordinate and assist with emergency-preparedness training opportunities for members of the Emergency Operations Center and Building Safety Coordinator program.
Tell us something about you that people on campus might not know.
I am a UC Merced undergraduate student majoring in psychology. I am on track to graduate this December. Being a UC Merced student has given me valuable insight into performing job duties. I try to consider the staff and the student perspective when working on projects, which makes it both challenging and rewarding.