Let the Games Begin: SAW 2016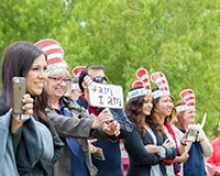 Staff Appreciation Week, UC Merced's annual salute to staff members, is next week.
Sponsored by UC Merced's Staff Assembly with support from the Office of the Chancellor, Staff Appreciation Week (SAW) recognizes staff members for their work throughout the year and offers opportunities to enjoy fun activities and the company of colleagues.
The theme this year is the Olympics, in reference to the 2016 Summer Games. Organizers have planned a host of activities Tuesday through Friday including games, an ice cream social, staff breakfast, campus tours, a vendors market and scavenger hunt. The week culminates Friday, May 20, with the Staff Picnic.
SAW 2016 events will take place on campus. Supervisors are encouraged to grant staff members release time to participate and attend SAW-related events.
"We are excited to celebrate Staff Appreciation Week and acknowledge the many dedicated and hard-working staff members who go above and beyond to support the university's mission of research, teaching and service," Staff Assembly President Pam Taylor said. "The planning committee has put together a great schedule of events. I encourage everyone to partake in the festivities and enjoy the week with your campus family."
Here is a rundown of what's happening during the week:
SAW 2016 officially kicks off Tuesday with the staff breakfast, sponsored by the Office of Human Resources, from 7:30-9:30 a.m. in Kolligian Library, Room 355. Assistant Vice Chancellor for Human Resources Brian Powell and Staff Assembly President Pam Taylor will make opening remarks.
Staff Games, Ice Cream Social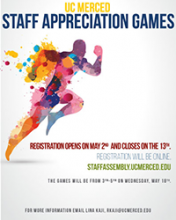 On Wednesday, staff members can go for the gold and engage in some friendly competition — including a pie-eating contest and maneuvers through an inflatable, bounce house obstacle course — during the Staff Games and ice cream social from 3-5 p.m. in The Bowl. Those who want to participate in the games must register in advance and are encouraged to form teams. Details regarding team participation are listed on the Staff Assembly website.
Although the Little Lake kayak races, featuring members of the chancellor's leadership team, aren't happening this year, several leaders are expected to participate in the Staff Games. The ice cream social takes place at the same time as the Staff Games. Those who prefer to watch the games and cheer on their colleagues can do so while enjoying a cool, sweet treat.
Campus tours of the Merced Vernal Pools and Grassland Reserve, Classroom and Office Building 2 and Central Plant facility take place Thursday. All tours are now full, and registration for those events is closed. Participants will be notified regarding where to gather in advance of their scheduled tours.
The final event of the week is the Staff Picnic, from 11:30 a.m. to 1 p.m. in the Carol Tomlinson-Keasey Quad. This year's menu reflects the Olympic theme and includes Greek fare. Also, the event is truly picnic-style, so staff members should bring their own lawn chairs or blankets to sit on, beach umbrellas or coverings to share shade, and sunblock. Casual attire is recommended and staff members are reminded to bring their CatCards, which will be necessary to get food. A vendors fair/farmers market takes place on Friday during the picnic.
Scavenger Hunt With Rufus Bobcat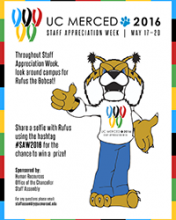 In addition to scheduled SAW 2016 events, staff members can take part in a Where's Rufus scavenger hunt Tuesday through Friday. Organizers will place a paper version of Rufus Bobcat in various locations on campus and satellite locations including The Promenade, Castle Commerce Center, Mondo and the Fresno Center. Staff members who take a selfie with Rufus and share the image via the Staff Assembly Twitter account have a chance to win a prize.
Pre-ordered Staff Appreciation Week T-shirts, which feature the Beginnings sculpture in the colors of the Olympic rings, will be distributed today (May 13) from 3:30-5 p.m. in the Bobcat Lair, located on the first floor of the Leo and Dottie Kolligian Library. Staff Assembly ordered a small number of extra shirts that will be sold for $20 on a first-come, first-served basis.
Proceeds from T-shirt sales benefit the Staff Assembly Scholarship for Employees' Dependent Children. The scholarship is open to staff members' dependent children who attend UC Merced.
For a list of the week's activities, download the SAW 2016 poster.