Living Our Values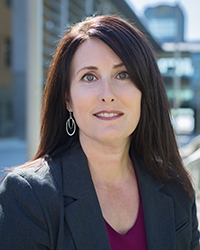 Integrity, respect, excellence and accountability represent the formal ethical values adopted by the University of California system and also are a few of my personal favorites.
As UC Merced's chief ethics and compliance officer, I think often about UC Merced's alignment with our core values. Are our programs working? How transparent and widely communicated are our procedures? Are our policies effective? Are our people driving us in the right direction?
UC Merced's Principles of Community were built upon our core systemwide values while providing an important local context that acknowledges and celebrates UC Merced's diversity in culture, identity and expression.
One of the most important functions of my office, the Office of Campus Culture and Compliance (OC3),is to promote a climate in which all UC Merced students, staff and faculty members, lecturers and postdoctoral scholars feel respected and valued.
Organizationally, we do this through culture and accountability initiatives that include engagement and two-way feedback (both formal and informal), prevention education and awareness, policies and procedures, auditing, monitoring, reporting, investigation and intervention.
Individually, each of us contributes daily to the campus climate. Raising awareness about individual behaviors that negatively — and positively — affect the campus community is critical.
The Campus Advocacy, Resources and Education (CARE) Office leads campaigns that educate UC Merced students and staff and faculty members about identifying and preventing stalking, sexual assault and domestic violence:
Fostering Diversity and Inclusion at UC Merced
There is no question we must ensure our campus community members feel safe when expressing diverse identities, cultures and concerns.
The Social Justice Initiatives in the Office of Student Life focuses on cultural awareness, personal and community development, and advocacy. The CARE Office provides access to a 24/7 confidential advocate for survivors of sexual assault. The Office of Ombuds Services provides a confidential, neutral and informal resource for students and staff and faculty members to express concerns and resolve conflict.
All campus community members are encouraged to contribute to an environment that fosters diversity and inclusion at UC Merced.
At UC Merced, the Chancellor's Advisory Council on Campus Climate, Culture and Inclusion (CCCI) has been charged with monitoring campus progress toward meeting specific goals arising from the 2013 Campus Climate Survey. To help promote continuous engagement in this area, OC3 developed a webform to collect feedback related to climate initiatives, issues, needs and recommendations.
To be effective in each of our roles, we must be able to identify and mitigate culture and compliance problems. The Internal Audit group identifies issues through formal audits and advisory services. We also identify individual and systemic weaknesses through reporting on discrimination, harassment and retaliation and improper governmental activities. For example, to ensure appropriate use of university resources, we are developing a Personal Use Policy that will help UC Merced employees better understand the expectations in this area. Once vetted and finalized, this policy will be communicated widely to all campus stakeholders.
While I have only been part of the UC Merced community for less than a year, I have seen incredible innovation on this campus.
Whether it is the unique way we structure our interdisciplinary academic programs, deliver graduate education, or streamline our business and administrative services, UC Merced is different.
I believe a strong sense of community and thirst for knowledge drives us toward excellence. As we move toward growth and change, I look forward to our collective creation of a positive campus culture to pave the way.
---
Visit the Office of Campus Culture and Compliance website to view a full list of departments and areas that fall under OC3's purview. 
Luanna Putney serves as associate chancellor and senior advisor to the chancellor at UC Merced.