Lollini Wins Jefferson Award for Public Architecture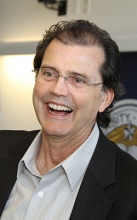 Campus Architect Thomas Lollini, whose vision has contributed much to UC Merced's growing legacy of sustainable design and construction, is one of only two winners of the 2015 Thomas Jefferson Awards for Public Architecture from the American Institute of Architects (AIA).
"UC Merced is a place of significant architectural beauty and coherence, shaped by the integration of natural and built environments," Edward Mazria, founder of Architecture 2030, wrote in a recommendation letter. "The innovative work Tom has been doing [there] is producing a learning laboratory for the profession, students and faculty."
Before joining UC Merced in 2005, Lollini was a campus planner at UC Berkeley, where he was responsible for $2.5 billion in capital investments, including a series of seismic upgrades that reshaped the campus. His New Century Plan, UC Berkeley's first comprehensive planning exercise in 100 years, paved the way for enrollment to expand by 10 percent.
Lollini will also help guide UC Merced to its next phase of expansion — to 10,000 students by 2020.
"It's a unique talent that can re-synthesize a historic campus's discordant architectural history into a coherent narrative, and can also set the table for a new university to be made of whole cloth," the AIA said in a news story. "Lollini's career is a testament to architecture's dual nature as a harbinger of the new and preserver of the old."
UC Merced's campus plan directly links to its Triple Zero commitment to use zero net energy and produce zero net landfill waste and zero net carbon emissions by 2020. UC Merced is the only campus in the country to have all of its buildings earn Leadership in Energy and Environmental Design (LEED) certification through the U.S. Green Building Council.
The school already uses 40 percent less water than code requires, and 50 percent less energy than comparable buildings.
"Under Tom's guidance, UC Merced has become an architectural showcase of the language of sustainable design, developing a language derived from the regional context and responsiveness to the regional environment, with each architect adding a new dialect to the conversation," University of Chicago Campus Architect Steve Wiesenthal wrote in his recommendation letter.
The AIA's Thomas Jefferson Awards are named for the founding father, American president, inventor, philosopher, scientist, statesman and architect who designed his home at Monticello, the Virginia State Capitol and the University of Virginia. Jefferson saw the university — the design he most wanted to be remembered for — as a higher expression of public service than even his presidency.
"It's a responsibility rarely concentrated in one person alone, but if there were a Jeffersonian figure in our time who embarked on a similar mission, many would point to Thomas Lollini," the AIA said.
The group praised Lollini's "singular role" in growing a new university, called his work an example of contemporary design values that should permeate the nation's culture, and said his consistent vision and leadership created architecture that binds the story of the region's ecology to students' and faculty members' everyday life.
"I am both honored and humbled by this recognition," Lollini said. "UC Merced has been a collective effort of many talented and dedicated professionals, including those who came before us and continue to inspire and support us in this endeavor."