Manager Helps Students Navigate College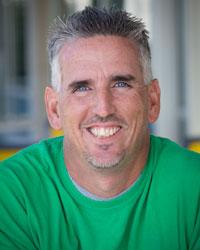 Whether you are a faculty, student or staff member, it is likely you have seen Carlton Stroud's friendly face behind the Students First Center (SFC) counter at some point.
Stroud has served as the SFC's assistant director since January 2011. His first higher education job experience came after he received his bachelor's degree in business management from College of Notre Dame in Belmont and began working at the college's admissions office.
After more than five years there, he moved to Oracle where he was a software designer. His team was tasked with designing student-information-system software for colleges and universities. He designed self-service pages for admissions applications, which was a great transition to his position at UC Merced.
Stroud lives in Modesto with his wife, Pao, and their sons, Thailer, Dawson and Koda. 
Please describe your job and what it entails.
The first part of my job is helping the students with their needs in Enrollment Services (i.e. financial aid, admissions, registration and billing). I manage the technology needs of the office. I make sure our computers are up to date, and I troubleshoot issues that arise. I also assess the quality of service provided to the students. There are many ways this is accomplished, but the most important one is our customer service survey, which we facilitate at the beginning of each semester.
What are some of the most rewarding things about your job?
I enjoy helping students figure out the unknown/overwhelming part of being a college student, like how to read their bills, understanding their financial aid packages and questions about classes.
The most rewarding thing is seeing the students return each year and make progress in this phase of their lives. I like helping students make the steps to finish their degrees and get ready to take the next phases in their careers.
I also enjoy going to conferences to gain ideas from other one-stop student-service offices. This year, I had the opportunity to present with Lisa Perry and Michelle Comer at a One Stop Conference in Montreal. It was a chance for us to showcase the many things we do here at the SFC. After we finished our presentation, we had people come up to us and say it was the most engaging session they had attended. 
What are some of the biggest challenges you face?
One of the challenges I face is staying on top of changes to processes or policies. As the university grows, a challenge that we face is the ability to help students with their issues without making them feel like they are just numbers. As part of our customer service model, we want to make sure we take the time with each student to make sure they are getting their questions answered, even if they do not know what questions to ask.
What new projects or plans are you and your unit looking forward to in the upcoming year?
In the upcoming year, the SFC is looking into customer relationship management (CRM) systems to enable us to better track the interactions we have with our students. We are also looking at different ways to connect with students. For example, we have started hosting "SFC on Location," where a staff member will be at a specific location within the schools on a certain day. I am also looking at installing CatCard readers at the SFC, which will allow us to log our interactions with each student more easily.
Tell us something about you that people on campus might not know.
Outside of work, I volunteer coach for local youth football and baseball teams. While in college, I ran cross country and track and I was the three-time MVP for my cross country team.