Mechanical Engineering Grad Degree Earns Accreditation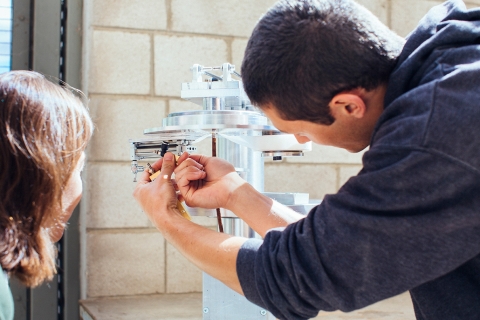 Current and prospective graduate students now have the option to earn degrees in mechanical engineering, after the UC system and the WASC Senior College and University Commission recently granted accreditation for both master's and doctoral degrees.
Mechanical engineering students at UC Merced previously could obtain Ph.D.s in engineering under the Individual Graduate Program umbrella, which allowed them to have degrees with an emphasis in mechanical engineering.
Being able to award formal doctoral degrees in mechanical engineering is an important opportunity for both students and faculty, School of Engineering Dean Mark Matsumoto said. 
"This gives the graduate degree credibility because the program is approved by the entire UC system, and it helps the students because they are more qualified for the jobs they seek when they have that specific degree," he said. "Accreditation also helps us recruit students."
"The research that's involved in getting an advanced degree can do nothing but benefit this region, too," said Steve Kidd, the vice president of operations and engineering for E. & J. Gallo Winery and a member of Matsumoto's advisory board. "This is really going to help industry here, especially agriculture."
Kidd has hired nine UC Merced graduates, mostly mechanical engineers, who are already in managerial positions or running operations.
"They are using their problem-solving skills and their educations every day here," he said. "There are wide variety of jobs for mechanical engineers in the Valley, so having UC Merced here is perfect, especially now that employers will know students have the foundations they are seeking."
Graduate Dean Marjorie S. Zatz said the new accreditation it exciting.
"This designation shines a light on a very successful program," Zatz said. "It's also going to reduce confusion among prospective students who want to fully understand what their degree options are here."
There are 43 mechanical engineering graduate students this year, four of whom are working toward their master's degrees. There are 172 graduate students in the School of Engineering, with more than 140 working toward Ph.D.s. The school has four graduate groups: Mechanical Engineering; Biological Engineering and Small-Scale Technologies (BEST); Electrical Engineering and Computer Science (EECS); and Environmental Systems, which already has its accreditation. The goal is for BEST and EECS to earn accreditation soon, as well.
Professor Ashlie Martini, the Mechanical Engineering graduate group chair, said the 11 mechanical engineering faculty members are also buoyed by the new accreditation.
"We fully expect that this will accelerate the already rapid growth of our program," Martini said. "This accreditation is an acknowledgement of the quality and growing reputation of our program, and the M.E. faculty members are looking forward to the positive effects it will have on our ability to recruit top students and on the success of those students, both during and after obtaining their graduate degrees here at UC Merced."