Merced 2020 Project Webcast Thursday with Provost, Associate Vice Chancellor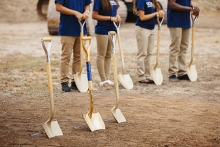 Join Provost and Executive Vice Chancellor Tom Peterson and Associate Vice Chancellor for Physical Operations, Planning and Development Michael McLeod for a webcast 1:30 to 2:30 p.m. Thursday (Nov. 17) about the Merced 2020 Project schedule.
Viewers can watch the webcast by accessing this link: 2020 Project Schedule Update. The event will be recorded, so those who are unable to watch the webcast live can view the recording at their convenience. A webcast regarding the Downtown Campus Center is scheduled for Jan. 25.
Webcasts held this year are part of a series of online chats developed to keep the campus community informed of key initiatives, topics and news that affect the campus. Previous webcasts addressed UC Merced's Workforce Planning and Visioning and Change Alignment initiatives.
Several webcasts featuring members of UC Merced's senior leadership team have aired during the 2016 calendar year. Webcast recordings are posted on the Business and Administrative Services website.