Merced Native Finds Niche Helping Students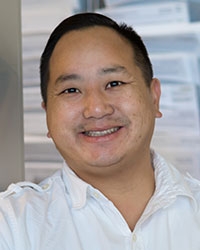 From the moment he joined UC Merced's Students First Center (SFC) three years ago, enrollment services advisor Kong Moua has been helping students find the information they need to succeed. 
Whether he is manning the front counter, chatting with students online or answering emails at his desk, Moua is revered by students and their parents for the excellent customer service he provides. They often take the time to send thank-you emails to SFC Director Lisa Perry. 
One parent wrote, "My daughter and I had a variety of questions regarding financial aid, Deferred Payment Plan and other miscellaneous questions. We were fortunate to speak to one of your representatives, Kong. He gave outstanding service! His patience and guidance clarified many uncertainties."
Another parent said, "I just wanted to commend your staff, specifically Kong Moua, for providing me with service above and beyond. Kong advised me on some questions I had with financial aid and was extremely helpful at ensuring that I understood all elements on what to expect in the process. I really appreciated it!"
Moua, who was born and raised in Merced, remembers when the new UC campus was under construction and recruiting its inaugural class. 
The opportunity to work at UC Merced was one Moua couldn't pass up. 
"I think it's a great opportunity," he said. "It's a smaller campus, and it provides a lot of opportunities for students. It is like a big melting pot."
Moua attended San Francisco State University, where he earned a bachelor's degree in business management. As a student, he worked as an office clerk for the assistant dean of the College of Humanities, where he learned a lot about the university environment. His first job out of college was working as a sales consultant for GMC. Then he worked for Folsom Lake College in Folsom and as a financial aid advisor at Merced College before joining UC Merced.
Please describe what your job entails. 
I work in the Students First Center, which is UC Merced's one-stop shop, assisting students with financial aid, admissions and registrar questions. As an enrollment services advisor, I am cross-trained in all three fields to better serve our students. I was a financial aid advisor in the past, so I have a lot of knowledge about financial aid policy and procedures. Most of my day is spent assisting current and prospective students and their parents over the phone, over chat, by email or in person at the SFC counter. 
I am also the graduate liaison, which is a new venture we have taken on to better assist our graduate student population. I work with Graduate Student Services to better understand what graduate students need so we can answer their questions or direct them to the right person.
What are some of the most rewarding things about your job? 
At the Students First Center, we are the first contact for a lot of incoming students. It is rewarding to see how students transition as incoming students and how we help them succeed through the years.
What are some of the biggest challenges you face in your role, and how do you overcome them? 
We are a one-stop shop and must be knowledgeable about many topics, so one challenge I face is keeping up with the new updates from various departments. Another challenge is the language barrier when speaking to parents who don't speak English.  
What new initiatives/projects/plans are you looking forward to in the upcoming year? 
I look forward to finding new ways to assist our graduate students, as well as seeing all of the new students as they start the fall semester. 
Tell us something about you that people on campus might not know. 
In my free time, I enjoy do-it-yourself projects like building things for my two girls. I've also learned to enjoy what nature has to offer, and I do a lot of outdoor activities such as fishing, hiking, tubing and anything adventurous.