Message From Leadership: Vice Chancellor Jane Lawrence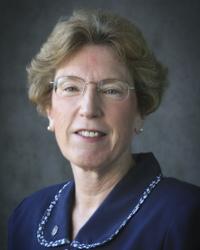 The fall semester is already in full swing as I write this update. We have again met our enrollment targets for this academic year. Institutional Planning and Analysis reports that 5,760 students (5,697 FTE) are enrolled this term. In addition, the campus has its largest graduate enrollment — 329 students — to date. Recruiting and retaining a talented student body is a campus-wide endeavor, and I want to thank you for all you do make UC Merced an academic community where students can be successful.
We also had an extremely busy summer with 1,732 students enrolled in classes (a 24 percent increase over Summer 2011) and 1,658 students and 1,415 parents attending New Student Orientation. Our Graduate and Research Orientation Week (GROW) had its largest attendance with 103 new students. There are more than 1,500 students living in on-campus housing this fall. With the opening of Housing 4 next fall, the campus will have more than 2,000 residential students.
Two days before classes started, the campus held the second annual transition conference for new freshmen and transfer students called ASCEND. Students selected from more than 60 sessions and workshops organized around four themes: academic excellence, personal and academic responsibility, student life, and leadership and wellness. Initial feedback from students indicates that their questions about academics and student life were answered and they felt more prepared and confident as classes started.
On Aug. 24, the Student Activities and Athletics Center (SAAC) officially opened with Chancellor Dorothy Leland and our Bobcat mascot cutting the blue and gold ribbons. Hundreds of students streamed through the doors to see the new cardio and weight room, meeting rooms and the Outdoor Adventure Center. The SAAC also houses the recreation and intercollegiate athletics staff offices. 
With classes underway, the campus has been alive with activity as students fill the Leo and Dottie Kolligian Library's study spaces and the Lantern, and get involved with one or more of our more than 160 clubs and organizations. Students also packed the bleachers when UC Merced hosted a women's volleyball tournament in late August. I invite you all to come out and cheer on our intercollegiate athletic teams! Team schedules are available online.
This fall, we are celebrating two important 10-year anniversaries. The first is the founding of our campus and the chancellor is organizing a series of Founders Day activities to help us celebrate this important milestone. Also, 10 years ago the campus created the Center for Educational Partnerships, which has brought in more than $15 million dollars in grants and gifts, and has served thousands of students and parents and hundreds of K-12 teachers and school districts throughout the San Joaquin Valley. We should all be very proud of the work the center staff does to provide access to higher education to young people throughout the Valley.
On Oct. 13, the campus will host Preview Day and Family Weekend. During Preview Day, we will welcome hundreds of prospective students and their families to campus. Our numerous Family Weekend activities, including the Chancellor's Honors List Reception, will entice parents and family members back to campus to spend time with their students. Please mark your calendar as both of these events require support from schools and departments from across campus.
Best wishes for a great rest of the semester. Go Bobcats!