Mobile App Challenge Reproduces the Entrepreneurial Experience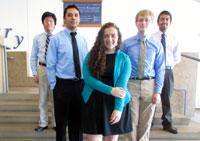 After six months of intense planning and programming, the winning team of UC Merced's Mobile App Challenge will be announced during a showcase finale today (April 26).
The Mobile App Challenge Showcase, held from noon to 2 p.m. in the California Room, will allow each of the eight teams that participated to highlight the importance of their application in hopes of earning $4,500 in scholarships, among other prizes. In addition, industry leaders will speak about emerging technologies and trends in the mobile embedded software space.
This year, the challenge – which is hosted by UC Merced's Career Services Center – gained corporate and foundation sponsors to further support scholarships for the winning teams.
AT&T, the lead sponsor of the Mobile App Challenge, is focused on cultivating and supporting interest in tech innovation and technology careers among California's youth. Danika Patrick, innovation lead at the AT&T Foundry in Palo Alto, will address students, staff and faculty at the Mobile App Challenge.
"Innovation comes from students who feel comfortable challenging the status quo to solve problems. At AT&T, we have opened up our network through APIs, app challenges, hackathons and our work at the foundry so that we can commercialize and implement innovative solutions as quickly as possible," Patrick said. "It is always amazing to see what students can come up with, and I am excited to hear directly from UC Merced student entrepreneurs about their ideas and products."
As one of the first hires to the AT&T Foundry, Patrick brings years of experience in user-centered research and design strategy and has been instrumental in shaping its culture and processes to ensure AT&T is meeting its goal of innovation for human progress.
Paul Maglio, a professor in UC Merced's School of Engineering and an IBM research scientist, will discuss IBM's view of mobile computing for enterprise applications.
Thirty-five students representing each of the university's three schools took the challenge to develop innovative and custom applications for wireless devices. Some teams tackled students' real-life problems, such as manually assigning chores, dividing bills and keeping track of personal finances; downloading homework, exams and other study tools; and exploring career options. Others created a breathalyzer with a social component and mobile games. 
A panel of judges will award the grand prize based on the quality of the app, innovation and a professional pitch to the panel. The campus community voted earlier in April to award four other prizes that include the most original app and the app with the best functional design.
In addition to AT&T, sponsors include IBM and its Students for a Smarter Planet division, Womble Carlyle, Go Big and the Yadav-Ranjan Foundation.