National Rankings Point to Growing Recognition for UC Merced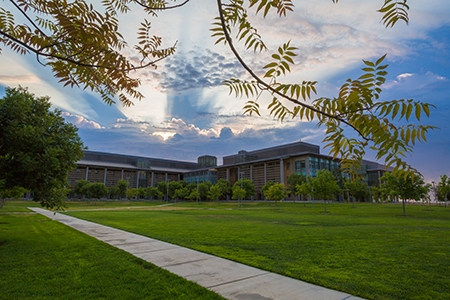 UC Merced is rapidly rising among the nation's top universities, as evidenced by the campus's growing number of appearances on national and statewide "best schools" lists.
As the campus celebrates its 10th anniversary this year and looks toward its next phase of growth, at least four revealing references have been noted from various sources.
Two recent accolades pertain to the practical value of a UC Merced education.
The nonprofit Educate to Career, which studies the correlation between educational attainment and career outcomes at more than 1,100 four-year institutions, ranked UC Merced 16th among all schools nationally. UC Merced trailed only UCLA and UC Irvine among UC campuses in the rankings, which use a methodology that focuses on workforce preparedness, employability and income.
Listed Among California's 'Best Value' Colleges, Universities
In a similar vein, UC Merced was named the 38th "best value" among California colleges and universities by bestvalueschools.com. The ranking is based on such factors as acceptance rates, graduation rates, net price of a degree and earning potential after graduation. Eight other UC campuses also made the Top 50 list.
Earlier this year, UC Merced was cited as the nation's 12th-most diverse university by bestcolleges.com, and its graduate programs in engineering and psychological sciences were ranked among the top 160 by U.S. News and World Report — the first appearance for UC Merced in the magazine's closely watched and frequently referenced college rankings.
The campus has also appeared in numerous rankings of the "greenest" or most sustainable schools in the country.
"As access to and the value of a college education continue to make headlines, it's gratifying to be recognized in these newest rankings for the excellent value we're providing to our students," said Charles Nies, interim vice chancellor for Student Affairs. "Coupled with other recent citations for academic excellence, diversity and sustainability, these honors begin to paint a compelling picture of what it means to get a UC Merced education."
Nies noted that survey organizations typically don't reveal exactly how their rankings are developed, which makes it difficult to judge how meaningful any one ranking truly is. Taken together, however, the rankings are a clear indication of UC Merced's growing reputation.
"Just 10 years in, we're already standing toe-to-toe with some of the nation's leading institutions in certain key areas, and in some cases, we're clearly among the leaders," Nies said. "The recognition of our accomplishments is very encouraging."