Natural Sciences Staff Assist Faculty, Researchers in Far Away Locales
Professor Michael Dawson's research — which focuses on environmental changes in marine systems and how those changes affect species — takes him and his team to remote areas around the globe. It takes planning and coordination to get the scientists, students and their equipment to those far-flung regions.
"All of these things need arranging," said Dawson, an evolutionary ecologist in the School of Natural Sciences.
Familiar procedures usually exist for shipping and delivering technical equipment in the United States, "but when you go outside of the U.S., those often-used routes may not exist," Dawson said. "Sometimes the remedy is easy, and sometimes it's not."

That's where the support staff members in the School of Natural Sciences come into the picture. Dawson lauds those who've been instrumental in helping his team conduct successful research.
"We do field work in places that aren't associated with a university," he explained. "If something breaks, we have to replace it. There are all kinds of problems that have to be solved."
Destination: Palau
At least twice a year, Dawson and his team travel to Palau, a tiny island country in the western Pacific Ocean northeast of Indonesia. Their destination is Jellyfish Lake, a 12-acre body of water that's been landlocked from the ocean — and predators — for thousands of years. The lake is home to millions of jellyfish that have evolved differently than similar species found in nearby ocean waters. The lake and its surrounding conditions make it an ideal spot for the team to conduct its research, analyze the surroundings and test their theories.
But getting there isn't easy. From California, reaching Palau takes four flights totaling 15-hours plus lay-overs. Once there, getting to the lake — which is on one of Palau's largely uninhabited islands — requires the researchers to take a half-hour boat ride, then hike through the jungle while toting gear and supplies.
Staff Assists with Behind-the-Scenes Details
"There are a lot of people behind the scenes helping out so Mike can get his work done," said Mireille Smith, the school's director of financial and administrative operations.
That includes administrative specialist Diego Molina, who went above and beyond to make sure Dawson's team had what it needed during a trip last year.
"Before he could ship all of the equipment, Diego had to get approvals from various departments because the items were being sent to a remote place," Smith said. "He had to work with FedEx, the people on the other end who would be receiving the items and then follow up with Mike to make sure he got them.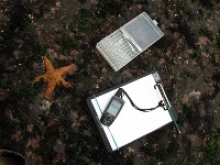 "Because of the time difference (16 hours) and the fact the researchers didn't have regular access to email or phone lines, it was a challenge. But Diego made it possible."
Dawson also credits work done by academic personnel manager Dora Lopes and her staff.
 
"They are impeccably professional and helpful in handling all appointments of staff and visiting scholars who have worked in my lab during the past three years," Dawson said. "The scholars are usually in master's of science programs in Europe and visit to gain research experience that they use to complete their theses. This requires handling personnel cases, visa materials and scheduling orientation when the students arrive."
 
Meanwhile, staff members such as Karina Villegas, Vanessa Sanchez, Sofia Mortera and Denise Silva assist by making travel arrangements, processing purchases and reimbursements, making sure university policies are followed to avoid problems or delays and handling other tasks.
 
"Often when we've gone overseas, we've incurred lots of expenses," Dawson said. "One thing staff did this year was review with us how to submit requests to be spent against our grant, which makes the reimbursement process easier."
 
When staff members anticipate and take care of those kinds of details, it allows the investigators to focus their attention and energy on the research work at hand.
 
"The entire staff in Natural Sciences is fabulous and the work they do is deeply appreciated," said Dawson. "The relationships we've all established over the years help with our communication and builds our confidence in them. All of these factors are vital to having the success and professionalism that help the research go more smoothly."
Note: This story is part of an occassional series, Research: A Collaborative Effort. The stories illustrate the joint effort it takes to conduct research at UC Merced. If you have a story or anecdote that highlights how you or a colleague contribute to the campus's research enterprise, please email Donna Birch Trahan in University Communications.