New AVC and Police Chief Combines All Things Safety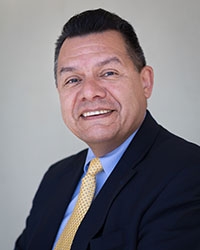 Albert Vasquez is putting to use his more than 30 years of experience in law enforcement and administration as UC Merced's first assistant vice chancellor for campus and public safety and second police chief.
Vasquez's dual role, which began Aug. 17, allows him to combine environmental health and safety, risk services, public safety, inspection and building services, parking enforcement and workers' compensation under the campus safety umbrella, creating a single point for decision-making.
While it is a new approach for UC Merced, it's second nature to Vasquez, who served as police chief and dean of campus security and student health and safety at Santa Monica College for the past seven years. Vasquez oversaw the public safety of approximately 45,000 students, faculty and staff members at five sites in Santa Monica and Los Angeles.
In this Q and A with Panorama, Vasquez shares his vision for campus safety and discusses how his extensive experience and training can benefit the campus and community.
What attracted you to UC Merced?
Certainly, what attracted me to UC Merced is the newness and opportunities to grow with the campus. As a first-generation college student, I found the demographics of the institution appealing, as well as the unique opportunity to bring together multiple units under a single safety umbrella.
As a law enforcement professional, I've had the good fortune of working in additional areas — as a risk manager, workers' compensation manager, chief of police, professor, athletic director and dean of student health and psychological services. This position gives me the opportunity to use everything I've learned over 33 years in law enforcement, and that opportunity excites me. And I don't believe this position exists at any other UC campus. 
What is your vision for campus and public safety, and how do you plan to make this vision a reality?
My vision is to educate students, staff and faculty members about everyone's roles in keeping the campus safe. Once you start that, it becomes institutionalized. All of a sudden, it's part of the culture.
Safety encompasses just about every facet of the institution, and I feel safety is going to be elevated to a higher level. 
What are your top priorities for your first six months on the job?
My first objective is to listen to students, faculty and staff about their areas and find out how we can help them achieve their goals. Second is to assess those areas under the new safety umbrella.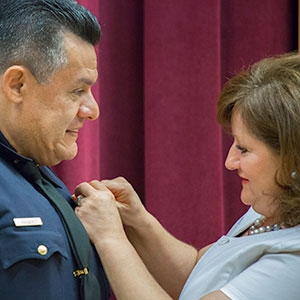 My first six months will be spent learning, listening and understanding why things are done the way they are done. I should learn the history before starting to make any changes. Change to make change doesn't make sense to me; change to improve a process or a system makes sense.
We need to continue to develop relationships, communication and friendships with local law enforcement and other partners. An emergency isn't the time to try to figure out what to do and what not to do.
At Santa Monica College, I worked closely with the city police chief for our active shooter training to ensure his police officers were familiar with our campus, and that they knew us.
On June 7, 2013, a lone gunman came onto the campus intent on killing as many innocent people as possible. We lost three members of our community that day, and the gunman was killed in an exchange of gunfire with responding Santa Monica College and Santa Monica city police officers. We learned that the active shooter training we had put into place for our employees saved many lives. The training and collaboration between our campus police department and Santa Monica Police Department proved to be extremely valuable.
How do you see your experiences from Santa Monica College and other previous organizations adding value to UC Merced?
I feel my experiences allow me to bring a unique perspective to our overall safety program. I've had the opportunity to work for city agencies, a sheriff's department, the United Nations International Police Task Force and the U.S. Department of Justice's International Criminal Investigative Training Assistance Program overseas.
I was chief of police during several major incidents at Santa Monica College, including the mass shooting, provided me experience in a higher education setting that I can apply here.
I was also a full professor at Marymount California University, where I started the criminal justice program, so I've sat on the academic side of an institution. I am able to look at issues through multiple lenses. 
What benefits — from a public safety perspective — do you see at a newer campus like ours compared to older, more established campuses?
As we grow, we can design safety features into our new buildings. As a building comes online, you can include environmental design aspects like lights, shrubs and trees — to make it aesthetically pleasing but still a safe environment.
What challenges do you see?
Based on what I am seeing and hearing, staffing is a potential problem. We may need more administrative support and support in the labs.
Another potential challenge is the ingress and egress, and that could pose problems in the event of some kind of disaster. From a safety perspective, that's a challenge.
We'll be looking at everything. There are things in place and we have to look at what strengths we've got to build on. 
What are your thoughts so far about Merced?
It is a nice community. There's an older, more established area. There's a newer area, and then there's this wide-open area. When I worked for the Orange County Sheriff's Department early in my career, I recall looking at the area where UC Irvine was built. There were still orange groves and rolling hills. Now, everything is built out. Looking at Merced today — 10 years into it — I am thinking 40 years from now this is going to be completely different.